Keyboard player Charles Brodowicz (aka Charles Brody), bassist Len Demski, drummer Alan Fowler and guitarists Chris Holmes and T.J. Tindall met while attending the Blessed Sacrament Grammar School in Trenton, New Jersey. By 1962 they were performing as The Galaxies IV, playing local dances and clubs. Tindall dropped out of the band when his family moved. He reappeared as a member of Edison's Electric Band and then became part of the Philadelphia International studio band MFSB, before passing on from cancer in 2016.
With the addition of singer Steve Scheier, by the mid-'60s the band was playing local New Jersey dances and clubs such as The Allentown Fairgrounds, The Tird Ear, Murphy's Chuck Wagon, and The RKO Lincoln Theater. Sponsored by St. John Terrell's Music Circus in Lambertville, New Jersey, they beat out 300 contestants to win 1965's initial World Rock n' World Championship. Judges included Phil Spector and DJ Cousin Brucie Morrow. The win led to a contract to play some 40 shows at the World's Fair and attracted the attention of United Artists' Veep subsidiary. Veep signed the group to a contract that saw the release of their debut 45. That was followed by a sophomore single for Irving Spice's New York based Mohawk Records and a third single for RCA Victor.
- 1965 'Let Me Hear You Say Yeah' b/w 'Till The You'll Cry' (Veep catalog number V 1211)\
- 1966's 'Piccadilly Circus' b/w 'I'm Going for Myself' (Mohawk catalog number M-169)
- 1967's 'Don't Lose Your Mind' b/w 'Piccadilly Circus' (RCA Victor catalog number 47-9235)
By 1967, now known as Alexander Rabbit the band signed with A&M, releasing an intriguing one-shot 45, before being dropped by the label. Mixing psych touches, a pop melody and Brodowicz's Procol Harum-styled organ fills, the song would have sounded fine on FM radio. The flip side was an atmospheric, largely instrumental tune that sounded like the band had been listening to more than their share of Flamenco tunes.
- 1969's 'I Didn't Even Thank Her' b/w 'Malaguena' (A&M catalog number AM-1101).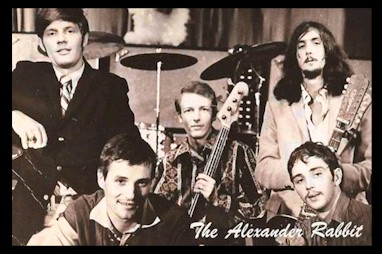 Moving on to Mercury Records, the band somehow convinced their new label to finance an LP. Not only that, but they managed to get the label to okay a concept album - in this case the plotline seemingly inspired by Victor Hugo's bell ringing hunchback Quasimodo. Recorded in New York's Associated Recording Studios, 1970's "The Hunchback of Notre Dame (The Bells Were My Friends)" was co-produced by Irving Spice and Max Ellen (the eccentric Jerry Samuels (aka Napoleon XIV) engineered the sessions. In spite of the goofy title, the collection of largely original material (a blue-eyed soul cover of Otis Redding's "I've Been Loving You Too Long" being the one exception), was diverse and surprisingly engaging. While the extended title track bogged down in Procol Harum-meets-Tolken art-rock mysticism (not a pretty combination), elsewhere the band displayed considerable versatility, capably polishing off nifty rockers like the scorching "Goin' Down", Association-styled ballads ("My Woman") and decent pop-rock ("Faraway Man"). While it wasn't the year's most consistent release, the fact it was so diverse was part of its charm. Well worth looking for and you can still find the LP at a decent price.
In case you wondering, drummer Fowler participated in the recording sessions, but quit the band prior to the album being released. Fowler went on to play in the band Pickins before dropping out of music and starting a career working for the Northampton County, Pennsylvania government. After a lengthy battle with health issues, he passed on in March, 2015.
Perhaps just an urban myth, but the band was apparently scheduled to appear at Woodstock, but their management company killed the performance; unhappy with the amount of money being offered.


"The Hunchback of Notre Dame (The Bells Were My Friends)" track listing:
(side 1)
1.) The Hunchback of Notre Dame (Chris Holmes - Bob Bradbury) - 7:17 rating: *** stars
I'll be the first to warn you that the lengthy title track wasn't the most tuneful performance these guys ever wrote. To my ears it sounded like a mixture of English progressive moves; Tolken-esque influences, and a segment that sounded like they'd appropriated part of The Who's "Tommy" soundtrack. The tune got better around the four minute mark when Scheier briefly stopped singing and The Who influences kicked in, but then the band floundered amidst Uriah Heep-styled organ meltdowns and the return of Scheier's vocals.
Curiously, Mercury tapped the track as a single; dividing the track into parts 1 and 2:
- 1970's 'The Hunchback of Notre Dame' (Part 1) b/w 'The Hunchback of Notre Dame' (Part 2) (Mercury catalog number 73146)

2.) Goin' Down (Chris Holmes - Len Demski) - 2:59 rating: **** stars
'Goin' Down' showcased the band diving into a more commercial, mainstream, funky-bluesy vibe. Certainly different from the title track; it was more in keeping with Holmes forthcoming solo work (under the name Duke Williams and the Extremes). Complete with horns and harmonica, it's one of the tracks I would have considered as a single.
3.) My Woman (Chris Holmes - Bob Bradbury) - 4:16 rating: *** stars
A heavily orchestrated ballad, 'My Woman' wouldn't have sounded out of place on an Association album. Sweet melody; sweet harmonies - though how you felt about the song probably depended on how you felt about commercial pop ballads like those kicked out by The Association.
4.) Faraway Man (Chris Holmes - Bob Bradbury) - 4:16 rating: **** stars
Always liked the jangle rock guitars that opened 'Faraway Man.' The song's mid-'60s vibe was quite unlike the rest of the LP, but it was also one of the album highlights.
5.) Living In This World (Charles.J. Brodowicz) - 2:42 rating: *** stars
Another heavily orchestrated ballad, 'Living In This World' was perhaps the album's most conventional and commercial performance. Scheier's delivery was interesting in that he gave the tune a mild English twang.

(side 2)
1.) She Don't Come Around (Chris Holmes - Steve Scheier) - 5:43 rating: *** stars
Another ballad - pretty, if a touch on the fey side.
2.) Dreams of My Life (Chris Holmes) - 2:38 rating: **** stars
Once again Brodowicz's stabbing organ fills coupled with Fowler's frenetic drumming gave 'Dreams Of My Life' a slight Uriah Heep vibe. Well, Uriah Heep if they'd decided they wanted to try their hands at harmony rich pop-rock. One of the album highlights.
3.) I've Been Loving You Too Long (Otis Redding - Jerry Butler) - 2:15 rating: *** stars
As mentioned, 'I've Been Loving You Too Long' was the album's lone cover. Imagine Tommy James and the Shondells covering the tune and you'll get a feel for the blue-eyed soul arrangement. Always liked Len Demski's steady bass line on this one.
4.) Medley: I Knew I'd Want You / I've Got You (H.E. Clark / Alan Fowler - Charles Brodowicz) - 3:26 rating: **** stars
The opening segment of the medley 'I Knew I'd Want You' sounded like something they might have recorded in 1966. Very folk-rock vibe and very enjoyable. 'I've Got You' hit the accelerator; added psych influences, Latin percussion and electric violin to the mix. The resulting West Coast vibe would have made the band It's a Beautiful Day proud.

!