Even though they had a fairly extensive recording catalog, Scotland's Beggars Opera remained complete unknowns to American audiences (and not all that the well known outside of their native Scotland).
The disappointing sales of 1972's "Pathfinder" saw the band begin to polarize into different camps with different artistic visions. It also saw original singer Martin Griffiths and drummer Ray Wilson tender their notices. Former Writing on the Wall singer Linnie Patterson and journeyman drummer Colin Fairley were recruited as replacements. Self-produced, 1973's "Get Your Dog Off Me!" typically gets slammed as the little more than the revamped band's creative last gasp. It clearly wasn't as original, or enjoyable as the three earlier studio sets, but it wasn't a total washout either. Patterson wasn't as immediately likeable as Griffiths had been, but his voice was just as versatile, capable of handling everything from routine boogie rockers, to more challenging arrangements. The album also benefited from the unofficial return of synthesizer player Virginia Scott to the lineup. Though she wasn't listed on the band roster, Scott received special credit in the liner notes and was responsible for two of the ten tracks ('Freestyle Ladies' and 'Morning Day'). So what did this puppy sound like? Well longstanding fans were probably appalled by the band's decision to largely abandon their earlier progressive roots in favor of a more mainstream pop and rock orientation. That opened the door to taking stabs at a wide variety of genres that never would have been contemplated in the past, including country-rock ('Get Your Dog Off of Me') , pop 'La-di-da'), and bluesy-rocker (Working Man'). Sure, artistically it was clearly a sellout, but you couldn't really blame them for a marketing decision like this one. After all, the first three LPs won critical raves, but didn't sell worth squat and musicians need to eat.
"Get Your Dog Off of Me" track listing:
(side 1)
1.) Get Your Dog Off of Me (Alan Park - Ainsworth) - rating: **** stars
With an instantly memorable melody and nice vocal from Linnie Paterson, the title track was a top notch country-rock performance. Upbeat, funny, and highly commercial, this one should have been tapped as a single.
2.) Freestyle Ladies (Virginia Scott) - rating: ** stars
Penned by Scott, 'Freestyle Ladies' was a pedestrian boogie rocker number. I've certainly heard worse, but this one just lacked much in the originality. Ricky Gardiner's guitar was probably the best thing on the album.
3.) Open Letter (Robert Smith) - rating: **** stars
One of the standout tracks, 'Open Letter' was a mid-tempo rocker with a great melody and wonderful harmony vocals. Paterson rough hewn voice shone on this one, while Scott's voice was clearly heard on backing chorus. Very nice.
4.) Morning Day (Virginia Scott) - rating: *** stars
Scott's second contribution, 'Morning Day' opened up with a nice Gordon Sellar bass pattern and unfolded into a decent country-rock number. Pretty melody with some nice group harmonies on the chorus.
5.) Requiem (instrumental) (Ricky Gardiner) - rating: *** stars
One of the few nods to their past, side one close with the atmospheric instrumental 'Requiem' . Written by Gardiner, the track also showcased his arching guitar. Beautiful performance, but it was very short.
(side 2)
1.) Classical Gas (instrumental) (Mason Williams) - rating: ** stars
Slowed down and given a classical edge with the addition of Alan Park's harpsichord and Scott's synthesizers, their cover of Mason William's 'Classical Gas' was fun, but hardly improved on the original. It actually sounded like something that Focus might have concocted ... It was also tapped as a European single.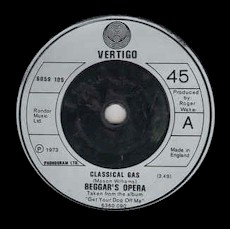 1974's 'Classical Gas' b/w 'Sweet Blossomed Woman' / 'Requiem' (Vertigo catalog number 6059 105)
2.) Sweet Blossom Woman (Mick Grabham) - rating: *** stars
The first couple of times I heard it 'Sweet Blossom Woman' didn't do a great deal for me. To be honest, it struck me as a routine country-rock number with an ill advised dollop of synthesizers. And unexpectedly one day when I had the album on and wasn't paying all that much attention the song jumped out at me. Yeah, it was a country-rock number but the performance was exceptionally energetic and Paterson turned in one of his best vocals.
3.) Turn Your Money Green (Alan Park - Ainsworth) - rating: **** stars
'Turn Your Money Green' started out as a pretty atmospheric instrumental, before morphing into a nice Southern rock ballad. Funny to think that a Scottish band could pull that move off. Most probably couldn't do it.
4.) La-di-da (Linnie Paterson - Colin Fairlie - Alan Park - Gordon Sellar - Ricky Gardiner) - rating: **** stars
The group-penned 'La-di-da ' was easily their most commercial outing. With a giddy refrain this one had everything required for top-40 success, making you scratch your head and wonder why 'Classical Gas' was tapped instead.
5.) Working Man (Gordon Sellar - Ainsworth) - rating: *** stars
'Working Man' ended the album with a nifty blues-rocker. The surprise on this one was Paterson who demonstrated a previous unheard capacity for belting it out. Taunt and tough, it was unlike anything heard on their earlier releases.
The album proved another commercial flop and the band subsequently called it quits. Guitarist Gardiner and synthesizer player Scott decided to continue their collaboration, quickly reactivating the band name and recording a pair if mid-1970s albums that only saw a German release:
- 1974's "Sagittary" (Jupiter catalog number 27 691 XAT)
- 1970's "Beggars Can't Be Choosers" (Jupiter catalog number 27 702 XAT)
A couple of years later bassist Sellar used the band name to release what was essentially a solo enterprise:
- 1980's "Lifeline" (Vertigo catalog number 6435 060)