Roger and Wendy Penney started their entertainment careers as actors, working with Boston's Theatre Company. Using the stage name Roger and Wendy Beckett, by the mid-'60s the pair had turned their attentions to music, becoming fixtures on New York's Greenwich Village folk club scene. By 1967 they'd followed the art crowd into a more electrified folk-rock sound with Roger jammin' on electric autoharp, while Wendy had picked up electric bass.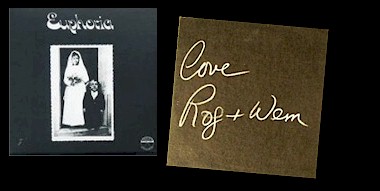 1969 saw The Beckets join forces with another entertainment couple - singer Sharon Alexander and guitarist Tom Pacheco. As Euphoria, the quartet captured the attention of Jerry Ross who signed them to his newly formed, MGM-affiliated Heritage label releasing an instantly obscure album on the short-lived Heritage label. In 1971 they released an extremely rare vanity project ("Love Roger and Wendy") on their own Horny Records imprint. And that takes you to Bermuda Triangle.
If there's a sound that captures the mid-'60s for me, it's the electric autoharp. Which leads me to Roger Penney - the instrument's originator and long-standing proponent. And Roger Penney again leads me to Bermuda Triangle ...
So I'm not going to try to bamboozle you with loads of hype, telling you this was a lost psych classic. It's not. Instead, 1977's "Bermuda Triangle" made for an odd, if occasionally engrossing slice of lost-in-time counterculture soundtrack. What in the world does that mean ? Well, I'm not really sure since this was one quirky album spanning the musical genre from traditional Celtic instrumentals ('Lark In the Morning / Swallow Tail'), to conventional rock ('Right Track') with all kinds of stops along the way. That made for an album that was very hit-or-miss. I'm not a big country, or folk fan which meant about a quarter of the album had minimal appeal to my ears. In contrast, this trio (the Becket's were accompanied by a female drummer who went by the name of Sam), were at their best when rocking out. 'Right Track' was good, but the world-music-meets-Jefferson Airplane' Standing Together' was even better.
So why would you want to buy this album?
* Well, as exemplified by the rocker 'Right On', Roger's electric autoharp provided for some unique instrumentation.
* The pair's hippy zeitgeist had a certain goofy and likeable charm. You could just smell the stale smoke and Patchouli ...
On tracks like their cover of Aerosmith's ;Dream On' and the closer 'Wind' Wendy's high fragile voice was unique and quickly grew on you. Add to that, she may have been the best looking female bass player you've ever seen.
Clearly not for everyone so checkout their Your Tube clips before spending some big bucks on an original copy. For goodness sakes, don't buy the illegitimate 2006 Radioactive CD reissue (catalog number RRCD 143).
"Bermuda Triangle" track listing:
(side 1)
1.) Nights In White Satin (Justin Haywood) - 3:05 rating: *** stars
The Penney's stayed true to the song's original melody and arrangement, stripping out the heavy orchestration for a simpler, folky arrangement. Wendy turned in a whispery lead vocal that won't make you forget the original. Elsewhere, as with everything they touched, the song featured an electric autoharp solo.
2.) Right Track (Roger Becket - Wendy Becket) - 4:07 rating:**** stars
Say what you will about Roger's electric autoharp, but it made for some cool sound effects. With Roger taking one of the rare lead vocals, the upbeat and rockin' 'Right Track' was one of the album's most conventional and radio-friendly tunes.
3.) Dream On (Steve Tyler) - 4:34 rating:**** stars
Yeah, this has to be one of the strangest Aerosmith covers I've ever heard. They really didn't mess with the melody, or original song structure at all, yet there was something quite enchanting in their fragile, autoharp powered rendition. Wendy certainly had an enchanting voice and sounded a but like Heart's Ann Wilson on this one.
4.) Lark In the Morning / Swallow Tail (instrumental) - 1:24 rating: ** stars
The brief Celtic instrumental 'Lark In the Morning' showcased drummer Sam on violin. Typical Saturday night in an Irish bar musical material which meant most of you will have heard this stuff hundreds of times before.
5) Free Ride (Roger Becket) - 2:55 rating: *** stars
Power electric autoharp chords and all, with 'Free Rider' (thankfully not a cover of Edger Winter's hit), the Beckets took a stab at rocking out ... Well, I will say it was different.
(side 2)
1.) Standing Together (Roger Becket - Wendy Becket) - 3:05 rating: **** stars
Kicked along by Sam's tribal drumming and some tasteful synthesizer, 'Standing Together' sounded like prime Jefferson Airplane cross-polinated with some long forgotten world band. Killer hippy tune that really managed to rock out and my pick for the album's standout performance.
2.) Louisiana (Roger Becket) - 2:20 rating: ** stars
Nice to hear the Penney's harmonizing, but 'Louisiana' was a completely forgettable country-tinged number that again showcased Sam on violin.
3.) Night Train (Roger Becket - Wendy Becket) -4:40 rating: *** stars
A seemingly live tune (judging by the end-of-song applause), 'Night train' found the Penney's trying to do a country blues number ? Hard to tell what the intent was. There was some rock-out autoharp ...
4.) Wind (B. Bruno) - 3:52 rating: *** stars
While I tend to like Wendy's high, fragile voice, on the closing atmospheric ballad 'Wind' (original recorded by the band Circus Maximus), she seemed determined to hit operatic territory. Not as enjoyable ... That said, the sound had the same dark vibe as CSN&Y's 'Wooden Ships'.