From a marketing perspective these guys were dead on arrival - unusual name, small label, bad cover art ... as the saying goes, three strikes and you're out. Add to that the few online references to the group haven't been particularly kind to them. One major online reference didn't even get their nationality right - they're shown as being British. Shame history hasn't been kinder since they were actually a pretty good album oriented rock outfit.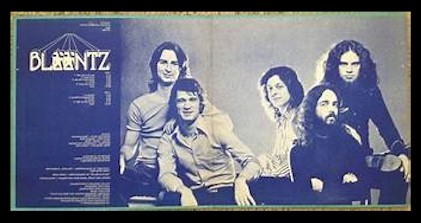 Based in Houston, Texas and originally known as The Bloontz All Star Blues Band, the group featured the talents of drummer Tony Braunagel, singer Andy Chapman, lead guitarist David Kealey, keyboardist Mike Montgomery, and former Blackwell bassist Terry Wilson. They relocated to New York in 1972 and shortened their name to Bloontz, scoring a contract with the Evolution label. Produced by Ron Johnsen, 1973's cleverly-titled "Bloontz" wasn't half bad. Mind you, none of the nine tracks was going to win an award for originality, but in the AOR genre the songs (with three of the five members contributing material), were quite varied and the performances were virtually all enjoyable. As lead singer Chapman had a voice that was near perfect for album oriented rockers - tough, rugged, but quite commercial. Imagine Paul Rodgers had he been born and raised in Texas. The rest of the band were also quite good with guitarist Kealey deserving special notice for his tasteful solos. Nah, it isn't a lost classic, but all told this one isn't bad and you can still find it on the cheap.
The album did nothing commercially and the band subsequently broke up with Braunagle and Wilson reappearing as members of Paul Kossoff's Back Street Crawler.
"Bloontz" track listing:
(side 1)
1.) The Joke's On You (Tony Braunagel) - 3:15 rating: *** stars
With a rollicking melody, the opening rocker 'The Joke's On You' sounded like an early stab at southern rock. This was one of the album's most commercial and radio-friendly outings.
2.) Jason Blue (Michael Montgomery) - 3:33 rating: *** stars
'Jason Blue' was unlike anything else on the album. Musically it was a bluesy rocker that to my ears sounded like a cross between David Clayton Thomas, Meatloaf, and early Steely Dan. Yeah, you'll simply have to hear this one to judge it yourself. It was one of those songs that grew on you after awhile.
3.) You Ain't Your Body (Terry Wilson - John Bundrick) - 2:25
Yeah, the title was a grammatical challenge; the lyric remains a puzzle to me, and the song itself wasn't all that great ... Still, 'You Ain't Your Body' gave Kealey a chance to unleash a nice solo. rating: ** stars
4.) Arena (Michael Montgomery) - 2:30 rating: *** stars
'Arena' was the kind of track a hair band like Whitesnake would have killed to have written. Nice rocker with a great hook, interesting lyrics that should have appealed to any red blooded 17 year old male ...
5.) Long Way Down (Michael Montgomery) - 3:53 rating: *** stars
Kicked along by Kealey's screeching, but melodic lead guitar and one of Chapman's grittiest vocals, 'Long Way Down' was a nice 'life-is-tough-as-a-rock-star' ballad that was easily as good as anything Free had released. That might explain why it was also tapped as an instantly obscure single.
- 1973's 'Long Way Down' b/w 'Long Way Down' (Evolution catalog number 1074)
(side 2)
1.) Prodigal (Michael Montgomery) - 3:30 rating: *** stars
Penned by Montgomery, side two started with a great country-rocker in the form of 'Prodigal'. One of the album's best melodies, this one gave Kealey a chance to show off his Telecaster moves ...
2.) Sunshine's Masquerade (Terry Wilson - John Bundrick) - 3:10 rating: *** stars
Co-written with Wilson's former Blackwell partner John Rabbit Bundrick, 'Sunshine's Masquerade' was the album's first major disappointment. A mid-tempo piece with an emphasis on Montgomery's keyboards, this one simply never switched into first gear.
3.) Ramon (Terry Wilson) - 3:30 rating: *** stars
'Ramon' was one of those tracks that I didn't particularly like the first couple of times around. It struck me as being kind of cheesy, but the tune itself was quite good.
4.) Light Up the World (J. Smith) - 5:15 rating: ** stars
Opening up with a pretty acoustic guitar 'Light Up the World' morphed into an overblown ballad (complete with female backing chorus) that showcased the worst aspects of Chapman's voice - here he simply sounded shrill and shrieky. Not a good way to close out the album.
Braunagel has a small website at: www.tonybraunagel.com