Ah, c'mon. Every rock and roll collector should have at least one religious cult album in their collection. The All Saved Freak Band is somewhat ominous. I find The Farm Band to be dull. Anything by Father Yod, or Ya Ho Wa 13 is going to be way too expensive for most of us. Some George Harrison albums come close, but he was a follower of Maharishi Mahesh Yogi. Admittedly Harrison's wife Olivia was a Maharaj Ji devotee and Harrison signed Maharaj Ji devotees Jiva to his Dark Horse Records label. Close, but no cigar ... In contrast, you can still find Blue Aquarius albums at a reasonable price. While the musical and lyrical content is at times questionable, this timepiece is liable to bring a smile to your face. Just be aware that if your grandparents have a nickname like "Saffron" or "Ramm Sunshine" they're liable to start suffering some serious flashbacks.
As background, here's the executive summary on the group. Based in Northern India, Hans Ram Singh Rawat (aka Hans Ji Maharaj), founded The Divine Light Mission (DLM) in 1960. Maharaj died in 1966 and his eight year old son Prem Pal Singh Rawat took over the organization's helm. One suspects mom and the older Maharaj brothers had some say in the decision making process. Now known as Maharaji Ji, under the young man's "leadership" the DLM started to expand into Western cultures. The young Maharaji Ji became sort of a jet setter, traveling the world as an author / speaker / philosopher. By the mid-'70s the DLM had set up dozens of ashrams and study centers. In addition to millions of followers in Indian, the group attracted thousands of followers, chiefly in England and the US.
I'm not a devotee of the group and don't really have much interest in them, other than commenting on this weird 1973 album. That said, I want to tread gently here since there's nothing wrong with the man's message of peace and love and there are still quite a few folks out there who subscribe to his doctrine and teachings. Is he a God like his followers believe? Not my call. Anyhow, hand-in-hand with Maharaji Ji's growing appeal to young Westerners, in 1972 one of his older brothers, Shri Bhole Ji (aka "Lord of Music"), decided there was a need for a rock band to spread the Maharaji Ji's message of peace and love. Hence Blue Aquarius. Sporting a line-up of 50 - 60 members, including former Dando Shaft guitarist Kevin Dempsey and Bee Gees drummer Geoff Bridgford, the group somehow scored a contract with Stax's newly formed Gospel Truth subsidiary.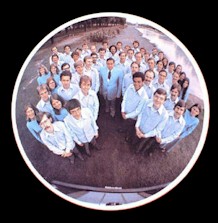 The liner notes credited Behole Ji and Bridgford as co-producing "Blue Aquarius." Recorded in London's Rolling Stone Mobile Studios. given Behole seemingly had little musical experience (or talent), I'm guessing his credits were more in the "spiritual" than musical realm. He certainly dressed nicely. Love the pale blue suit. Featuring ten originals tunes spread across seven writers who were all clearly Maharaji Ji followers, musically the album was all over the place. One of two songs written by Bridgford, the opener 'God Is Love' was an okay slice of soft rock. Elsewhere the set included stabs at Motown-styled soul ('Oh Maharaj Ji'), '50s pop ('Know Him While You Can'), BS&T-styled horn rock (the instrumental 'How Many Lifetimes') and even a touch of James Brown ('Alive and Well'). The one thing all of the compositions had in common - undying devotion to Maharaji Ji'. It seemed pretty obvious that most of the Blue Aquarius members were well meaning amateurs . The instrumental 'Arti' and a couple of other performances sounded like a subpar college marching band. You had to credit Bridgford for his post-production work which helped hide some of the more glaring shortcomings. Yeah, there was lots of heavy orchestration on these tunes. Ultimately what can you say about the album? It's clearly heartfelt and they did the best they could with the resources they had. By the way, in addition to Behold, I counted 50 folks in the inner sleeve group photo. A mix of women and men, they all have nice smiles and were completely anonymous - no performance credits.
"Blue Aquarius" track listing:
(side 1)
1.) God Is Love (Geoff Bridgford - Blue Aquarius) - 4:41 rating: ** stars
One of two tracks written by Bridgford, 'God Is Love' actually had a nice enough melody, but the heavy orchestration ultimately drown the band and while they may have been heartfelt, the lyrics in tribute to Maharaji Ji were enough to make you shudder. Yeah, this wasn't going to change your view of organized religion. Docked a star for the lyrics.
2.) Rock Me Maharaj Ji (Sandy Lowenthal - Blue Aquarius) - 4:38 rating: ** stars
Well, I liked the singer's voice; kind of a George Harrison vibe here, but the fawning lyrics always make me laugh. Rock me Maharaj Ji ...
3.) Know Him While You Can (Kevin Dempsey - Blue Aquarius) - 3:28 rating: *** stars
The bouncy, '50s melody was charming and the anonymous female singer was quite good. The tune also sported a nice Dempsey lead guitar solo. The lyric was also slightly more subtle than the others.
4.) At the Feet of the Master (Geoff Bridgford - Blue Aquarius) - 4:25 rating: *** stars
The acoustic ballad 'At the Feet of the Master' was probably the album's prettiest melody. Since he wrote it, I'm guessing Bridgford handled the lead vocals. If you could overlook the lyrics, it was even better, but it was pretty hard to get over stanzas like "At the feet Maharaj Ji you can really let it grow, let it flow, we're all love ..." As amazing as it was that Stax released this album, it's even harder to believe they released a single:
- 1973's 'At the Feet of the Master' b/w 'Know Him While You Can' (Gospel Truth catalog number GTA 1213)
5.) Arti (instrumental) (Blue Aquarius) - 2:24 rating: ** stars
The instrumental 'Arti' sounded like a college marching band getting their freak on. Hardly a rock song, but at least it was free from the usual fawning Maharaj Ji lyrics.
(side 2)
1.) How Many Lifetimes (instrumental) (John Pring - Blue Aquarius) - 4:46 rating: ** stars
The first half of the horn-powered 'How Many Lifetimes' managed to bounce between college marching band and out-of-tune BS&T wannabes. When the vocals kicked in the song turned into an irritating slice of horn rock. Dempsey provided some "rock" lead guitar but the vocalist screaming "thank Maharaj Ji" was just too much for me.
2.) Oh Maharaj Ji (Richie Ingui - Blue Aquarius) - 3:57 rating: **** stars
With a likeable soulful edge and sweet melody, the ballad 'Oh Maharaj Ji' could have been a chart effort had it not been for the lame lyrics. I always wondered if this one was intended to demonstrate African Americans loved the Maharaj Ji. Always loved the Steve Cropper-styled guitar solo. My choice for the standout performance. Just smile if you're paying attention to the lyrics.
3.) Foxfire (instrumental) (Vince Barrett - Blue Aquarius) - 5:11 rating: *** stars
Opening with some Atari Gameboy sound effects, the heavily orchestrated 'Foxfire' went on to sound like something written for a '70s James Bond film. I liked the Indian percussion that propelled the tune and Dempsey provided a nice guitar solo.
4.) Alive and Well (instrumental) (Daniel Ellis - Blue Aquarius) - 4:12 rating: *** stars
My goodness, the band seems to have been infected with a touch of James Brown.
5.) Satguru Has Come (John Pring - Blue Aquarius) - 4:23 rating: *** stars
'Satguru Has Come' ended the album with a tune that actually had commercial potential, except for the clunky lyrics. Nice bass line. Wasn't as enthralled by the flute solo, or the group vocals. By the way, I had to look the word up - "Satguru" translates as 'true guru' in Sanskrit.
For hardcore fans, or the curious, there's also a self-financed UK 45:
- 'The Ultimate Train' b/w 'At the Feet of the Master' (Akashic - no catalog number)
Some version of the band toured the Southern US, playing at prisons in Alabama, Texas, Oklahoma and New Mexico. Those concerts must have been an event. The expanded 50 - 60 person group moved to Houston in time for an appearance at Houston's Astrodome as part of the three day Maharaj Ji sponsored Millennium '73 festival. The performance was recorded for a planned live album, but that project died in July 1974 when Maharaj Ji published a letter unceremoniously disbanding the enterprise. That left brother Bhole Ji without a job and seemingly initiated a schism within the Ji family. Coupled with the decision to marry a non-Indian, by 1974 there was a major rift between Mahraj Ji and his mother and the two older brothers. Satpal Maharaj ended up taking control of the DLM's Indian affairs.
By the early 1980s Maharaji JI had essentially ended the western DLM, closing down the ashrams and shifting his focus from religion to "teaching."
There's a Blue Aquarius website, but it is an "invitation only" presence. You apparently have to have been a member of the band to join: Blue Aquarius Band
Bridgford is still active in music and has a presence on Facebook: (5) Geoff Bridgford | Facebook and on Bandcamp: Music | Geoff Bridgford (bandcamp.com)
Similarly Dempsey is still active in music: Kevin Dempsey | guitarist, singer, educator and music producer