If I had to scan my record collection for a list of ten lost classics, Lori Burton's 1967 "Breakout" would be on the list.
Liner notes are usually full of self serving crap, but the ones on this set are interesting since they're based on fact and also demonstrate how little the business side of music has come since the mid-'60s.
"Soul, Motown sound, rhythm and blues. If you think you've heard it all, if you think you're completed tuned in on the "now" sound, prepare yourself for a smashing surprise. The young lady's name is Lori Burton, and not only is she one the most remarkable singers to debut in a long since but she is also:
A songwriter - Lori and her partner Pam Sawyer, in addition to writing a string of hits (ever since they joined forced two years ago), have authored all of the songs on this recording. But that's till on part of Lori's story. Absolutely true. By the time this album was released, Burton and Sawyer had placed material with a host of acts including giving The Young Rascals their first hit with 1965's 'I Ain't Gonna Eat Out My Heart Anymore'. They also had their songs recorded by the likes of Candy and the Kisses ('Keep On Searching'), The Distortions ('I Ain't Gonna Eat My Heart Out Anymore'), Big Dee Irwin ('I Wanna Stay Right Here With You'), Little Hank ('Try To Understand), Lulu ('Something To Shout About'), The Mickey Finn ('I Do Love You'), Patty LaBelle And The Bluebells ('All or Nothing'), Prince Harold ('Try To Understand'), The Royal Guardsmen ('Baby Let's Wait'), The Sapphires ('The Slow Fizz'), etc., etc. In addition to singing and writing, she is also;
A record producer - Maybe you'd better had another look at the album cover. This is a producer? You better believe it! Lori and Pam constitute just about the only female producing team in the country, and they're both beautifully in tune with the young sound. Gee, things have really changed over the years ... NOT !!!
Lori didn't really plan on adding singing stardom to her other credits. When she and Pam wrote 'The Hurt Won't Go Away' the original idea was that another artist would record it. But when Irving G. Green, president of Mercury, heard Lori's voice on the demonstration disc, he suggested that she cut the record herself. The galloping success of the single more than bore out the wisdom of his suggestion. Well, this was kind of a stretch. The single was actually 'Bye Bye Charlie' with 'The Hurt Won't Go Away' relegated to the flip side and Mercury's support wasn't very deep given the single was apparently only released as a promo single:
- 1967's 'Bye Bye Charlie' b/w 'The Hurt Won't Go Away' (Philips catalog number 72663)
'Gotta Make You Love Me' introduces Lori's unique voice on this set. It is a genuine revelation: the husky sound rich with soul, the rocking, driving beat. And yet, for 'Since I Lost Your Lovin'', her voice opens with a sweet, soft rock quality that catches the plaintive effect of the lyrics. 'Love Was' is all big beat. 'Let No One Come Between Us' a pean to the endurance of true love, makes fine use of the multiple voice technique. And the side comes to a rock n' shout close with 'Gotta Get Over You'.
The flip side contains many other highlights; the moving breathless handling of 'There Is No Way', the sarcastic and tough ' Bye Bye Charlie', the grim song-story of 'Nightmare' and the dramatic final tune 'The Hurt That Won't Go Away'.
It's an unbelievably exciting listening experience, probably due to the fine working relationships between artists, composers and producer who, in this care are all Lori Burton. That many talents belonging to the same person should constitute a record. And, as a matter of fact, they do. It's time you listened to it."
This album came out in 1967 and even if it were musically pure crap, it would have been an amazing accomplishment if only for the fact it was written, performed, and produced by a pair of woman. That was simply unheard of in the mid-'60s. In fact, some fifty years later that's still a rare accomplishment.
Against that backdrop, "Breakout" is an overlooked classic. So where to start? Responsible for penning all ten tracks, Burton and Pam Sawyer were clearly a talented team, able to navigate a broad spectrum of contemporary sounds including Phil Spector-styled pop ('The Hurt Won't Go Away'), blue-eyed soul ('Let No One Come Between Us'), and Motown influenced dance tracks ('Gotta Make You Love Me'). There was even a detour into teen death rock (the inclusion of 'Nightmare' which had been released as a single credited to The Whyte Boots.. While not everything here was great, there wasn't a single tune that you would consider outright crap. And then there was Burton's voice. Contemporary music is full of women with powerful voices - Aretha Franklin, Janis Joplin, Grace Slick, Tina Turner, etc. As strong as all of those ladies were, I'm not sure any of them could match Burton in terms of pure power. Imagine a female Bon Scott determined to hit every song out of the ballpark and you'd get a feeling for Burton's voice. That's not to say subtlety was Burton's strength. In fact that tendency to try to belt out every tune as if her life depended on it was one of the album's biggest weaknesses. Burton had an instrument that was almost scary in its intensity; she could go from heartbroken to take no prisoners in a heartbeat. The voice was simultaneous sexy, tough as nails, and unlike anything you're likely to have heard. But after awhile, her sheer strength began to grate, making a softer performance like the pop-oriented 'Let No One Come Between Us'' a nice change of pace. Add to that the Burton's tough, biker chick image - bangs, lots of eye liner and you had to wonder how this album managed to be overlooked.
"Breakout" track listing:
(side 1)
1.) Gotta Make You Love Me (Lori Burton - Pam Sawyer) - 2:48 rating: **** stars
Folk are frequently surprised to hear the heavy Motown flavor on the opener 'Gotta Make You Love Me'. They shouldn't be the case given Burton and songwriting partner Pam Sawyer were heavily influenced by Motown, even briefly working for the label as paid songwriters. Regardless of the influences, there was no denying this was one killer slice of mid-'60s soul with a hook that wouldn't let go of your memory circuits. Hard to understand why this one wasn't tapped as a single. Dynamite drumming on this one as well.
2.) Since I Lost Your Lovin' (Lori Burton - Pam Sawyer) - 2:31 rating: **** stars
Yeah, the song bore more than a passing resemblance to 'You've Lost That Lovin' Feeling.' While you've probably never wondered what a female version of The Righteous Brothers would have sounded like, had such a thought ever crossed your mind, then you'd want to check this one out ... The thing is Burton's voice had more power than both of the Righteous Brothers combined. Simply an amazing performance that left you wondering how she didn't totally destroy her voice on this one.
3.) There Is No Way (To Stop Lovin' You) (Lori Burton - Pam Sawyer) - 2:18 rating: *** stars
'There Is No Way (To Stop Lovin' You)' was another Motown influenced tune, but this time out the results would have been better had Burton toned down her frenetic delivery. Yeah she had one of the most powerful voices you've ever heard, but judging by this tune she only seemed to operate at one speed - full out, take-no-prisoners belter. This tune had a great melody and hook, but her shrill delivery only served to distract from the song's other charms.
4.) The Hurt Won't Go Away (Lori Burton - Pam Sawyer) - 2:52 rating: *** stars
Taking a page out of the Phil Spector catalog, 'The Hurt Won't Go Away' was a pretty ballad framed in an everything-but-the-kitchen--sink arrangement. The tune started out promisingly enough with Burton actually exhibiting a bit of vocal restraint. Unfortunately that restraint didn't last long and by the time she hit the first refrain you felt she was singing for dear life. Way over-the-top ...
5.) Gotta Get Over You (Lori Burton - Pam Sawyer) - 2:16 rating: **** stars
Listening to the almost martial paced 'Gotta Get Over You' you couldn't help but be amazed by what a powerful voice Burton had. Not only that, but she could shift from merely loud to paint-stripping volume in a heartbeat. One of the wildest "breakup" tunes you'll ever hear; wish this one had gone on longer.
(side 2)
1.) Bye Bye Charlie (Lori Burton - Pam Sawyer) - 2:40 rating: **** stars
One of the all time cool "kiss off" songs, 'Bye Bye Charlie' had a unique sound that's always reminded me of early Neil Diamond (back when he was cool). Hard to aptly describe the sound, but it was a blend of piano, acoustic guitars, and a certain echo on the vocals ... It was also one of the isolated tunes where Burton didn't seem determined to shout herself hoarse, though the lunatic laughter wasn't really necessary. One of the album highlights. It's extremely rare and doesn't even show in must discographies, but Mercury tapped this one as a single:
- 1967's 'Bye Bye Charlie' b/w 'The Hurt Won't Go Away' (Philips catalog number 72663)
2.) Love Was (Lori Burton - Pam Sawyer) - 2:21 rating: **** stars
'Love Was' was another ballad with one of the album's prettier melodies and an interesting, somewhat risqué lyric - hum, wonder how often you heard a mid-'60s tune that included the word "masochistic" ...
3.) Let No One Come Between Us (Lori Burton - Pam Sawyer) - 1:55 rating: **** stars
Previously released as a Whyte Boots tune (it was the 'B' side to the 1966 single 'Nightmare'), 'Let No One Come Between Us' was easily the album's most commercial tune. Showcasing Burton's sexiest voice, the song had a breezy, highly commercial blue-eyed soul feel. The song should have enjoyed massive radio success. My pick for the album's best tune. Wish it was longer.
4.) Only Your Love (Lori Burton - Pam Sawyer) - 2:23 rating: *** stars
The orchestrated ballad has 'Only Your Love' has always reminded me of a mash-up of Merilee Rush and Cher. Hard to put my finger on it, but there was just something in Burton's ice queen delivery that recalled Cher.
5.) Nightmare (Lori Burton - Pam Sawyer) - 2:48 rating: **** stars
'Nightmare' had previously been released as a single credited to The Whyte Boots.
- 1966's 'Nightmare' b/w 'Let No One Come Between Us' (Phillips catalog number 40422)
The Whyte Boots were a studio entity featuring the talents of Burton and Sawyer and stands as one of the great "teenager tragedy" tunes that were briefly all the rage in the early-'60s (think along the lines of The Shangris-Las 'Leader of the Pack', or Jan and Dean's 'Dead Man's Curve'. It may not be as well known as those other songs, but in terms of concept it was every bit as good with a hysterical jealous-girl-kills-her-boyfriend-stealing-rival plotline. It also had one of the most insightful lines you'll ever hear in rock. Having accidentally killed her rival, the protagonist opens the song with the words "No boy's worth the trouble that I'm in." Anyhow, if you ever wanted to own The Whyte Boots 45, here's your chance to score it at a fraction of the cost.
As far as I can tell there are only two other items in Burton's discography.
Credited to Lorie Burton (note the extra 'e' in her first name), she made her debut with an obscure 1965 45 for the Roulette label: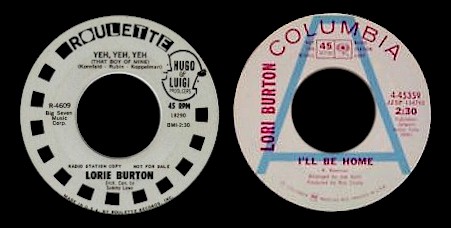 - 1965's 'Yeh, Yeh, Yeh (That Boy Of Mine)' b/w 'Who Are You' (Roulette catalog number 4609)
Penned by Artie Kornfeld, Don Rubin and Charles Koppelman, to my ears the 'A' sounded like a Leslie Gore tune; poppy, commercial, and kind of forgettable. Gore actually went on to record the song herself.
There's also a 1971 single on Columbia:
- 1971's' I'll Be Home' b/w 'Missing You Today' (Columbia catalog number 4-45359)
The 45 was seemingly only released as a promo; perhaps as an effort to re-start her recording career. I've never seen a stock copy of the record.