Genre: rock
Rating: 4 stars ****
Title: The Dreaming
Company: EMI America
Catalog: ST-17084
Year: 1982
Country/State: UK
Grade (cover/record): VG+/VG+
Comments: --
Available: 1
Catalog ID: --
Price: $35.00
Self-produced, Kate Bush spent two years working on 1982's "The Dreaming." While her entire discography is eclectic, experimental and challenging her fourth studio album took it all to a new level. And that's a promise and a warning. Bush has never been the kind of artist who was going to be to everyone's taste. What some folks find fascinating; groundbreaking and endearing, others are going to react to with WTF. I was certainly in the latter category when I was first introduced to this album in college. I had a roommate who was a passionate Kate Bush fan and played this album non-stop for months. Trying to study when he was blasting stuff like the hyperactive 'Sat In Your Lap' convinced me he'd lost his mind. Admittedly, after the 50th spin, some of it's quirky charms began to work on me. (Rob you were right and I was wrong.)
With EMI/America granting Bush the freedom to pretty much do whatever she wanted to, Bush recorded material across at least three studios, working with at least thirteen engineers. She also availed herself to a dizzying array of sessions musicians and instrumentation ranging from Celtic uilleann pipes to cutting edge Fairlight CMI synthesizers. In the midst of the project Bush found herself having to fight through a period of intense writer's block, walking away from the project for several months. When all was said and done, the album reflected an amazingly dense, diverse and personal set of material. Admittedly personal is a subjective term, even more so when talking about Kate Bush and on this collection she took her inspirations from all over the map - this was not your girl-loses-boy; girl-wins-back-boy themed album. Lyrics addressing Houdini's death ('Houdini'), desecration of Aboriginal lands ('The Dreaming') and tracking and killing American soldiers in Vietnam ('Pull Out the Pin) were dense and frequently obscure. This sure wasn't a happy album that you were going to play at a house warming party. Looking back at the album, one of the things that strikes me the most is what sounded incredibly weird and uncommercial in 1982 doesn't sound nearly as bizarre today. True, songs like 'There Goes a Tenner', 'Pull Out the Pin' and 'All the Love' reflect unconventional subject matter, weird time signatures and melodic shifts, but at last to my ears, the album doesn't sound nearly as out there. Nah, I'm unlikely to find myself humming 'Get Out of My House' while on a walk, but I won't go running to find a different song. And as much of a challenge as it may have been for me and many other listeners, the album took an even greater toll on Bush who was subsequently diagnosed with nervous exhaustion. Three years went by before she released another album. During that timeframe Bush built a state-of-the-art 48 track studio in her parents' home. There's clearly a thesis waiting to be written on this lone album.
"The Dreaming" track listing:
(side 1)
1.) Sat in Your Lap (Kate Bush) - 3:29 rating: **** stars
Finding a Kate Bush tune that captures her unique combination of catchy and eccentric isn't tough since its a target rich environment. That said, the hyperactive 'Sat In Your Lap' isn't a bad place to start. The combination of tribal drums, Fairlight horns, start-and-stop vocals were startling. Bush had been playing with a rough outline for the song for some time, but was moved to complete it after going to see a Stevie Wonder concert. In a 1985 MTV interview Bush described the song's inspiration as: "Sat In Your Lap' is very much a search for knowledge. And about the kind of people who really want to have knowledge but can't be bothered to do the things that they should in order to get it. So they're sitting there saying how nice it would be to have this or to do that without really desiring to do the things it takes you to get it. And also the more you learn the more ignorant you realize you are and that you get over one wall to find an even bigger one." Recorded at the start of "The Dreaming" sessions, the track was released as a single a year before the parent album was completed. A slightly remixed version appeared on "The Dreaming" LP.
- 1981's 'Sat In Your Lap' b/s 'Lords of the Ready River' (EMI catalog 1A 006-64452)
The promotional video simply has to be seen. It adds a totally different dimension to the song. Bush actually went out and bought a pair of roller skates in order to learn how to skate for the video: Kate Bush - Sat in Your Lap - Official Music Video - YouTube I once read a comment on the video to the effect Bush was the only person who could make wild-eyed, bat-shit crazy look sexy ... Watching the video I can see the point. LOL
2.) There Goes a Tenner (Kate Bush) - 3:24 rating: *** stars
'There Goes a Tenner' found Bush adding a music hall and a heavy Cockney accent to her storyline about a bank robbery gone wrong. In an interview discussing "The Dreaming" LP she talked about the song: "It's about amateur robbers who have only done small things, and this is quite a big robbery that they've been planning for months, and when it actually starts happening, they start freaking out. They're really scared, and they're so aware of the fact that something could go wrong that they just freaked out, and paranoid and want to go home. (...) It's sort of all the films I've seen with robberies in, the crooks have always been incredibly in control and calm, and I always thought that if I ever did a robbery, I'd be really scared, you know, I'd be really worried. So I thought I'm sure that's a much more human point of view." What young woman contemplates something like this? Just my opinion, but given the song wasn't very commercial it stood as an odd choice for the album's third single. Not that it stopped EMI from releasing it: Perhaps because it was somewhat strange, it was only released in the UK.
- 1982's 'There Goes a Tenner' b/w 'There Goes A Tenner' (EMI catalog number EMI 5350)
There was also promotional video which at least helped clarify the plotline: Kate Bush - There Goes a Tenner - Official Music Video - YouTube YouTube also has a clip of Bush lip-synching the song on the English Razzmatazz television show. Yeah the audience appeared a little confused by the performance: Kate Bush - There Goes A Tenner - Razzmatazz - YouTube
3.) Pull Out the Pin (Kate Bush) - 5:26 rating: *** stars
Sporting a great bass line, longtime Bush mentor David Gilmour on backing vocals and an awesome refrain "I love life", the song was inspired by an Australian documentary Bush saw looking at the Vietnam war from the Vietnamese side - specifically Viet Cong soldiers' ability to smell, track and kill American soldiers. Not the most uplifting plotline I've ever heard. Bush talked about the song with author Robin Smith in a 1982 interview. "I saw a programme with a camera man on the front line in Vietnam. The Vietnamese were portrayed as being very craftful people who treated their fighting as an art. They could literally smell the Americans coming through the jungle. Their culture of Coke cans and ice creams actually made them smell. Anyway, I learnt that before the Vietnamese went into action they popped a little silver Buddha in their mouths. I thought that was quite beautiful. Grotesque beauty attracts me. Negative images are often so interesting."
4.) Suspended in Gaffa (Kate Bush) - 3:54 rating: **** stars
Built on a waltz structure, 'Suspended In Gaffa' sported one of Bush's bounciest melodies and was probably the closest thing to a commercial tune on the album. The song was simultaneously giddy and thought provoking. Gaffa apparently referred to gaffer tape. In a 1985 MTV interview Bush talked about the song:: "Suspended In Gaffa' is, I suppose, similar in some ways to 'Sat In Your Lap' - the idea of someone seeking something, wanting something. I was brought up as a Roman Catholic and had the imagery of purgatory and of the idea that when you were taken there that you would be given a glimpse of God and then you wouldn't see him again until you were let into heaven. And we were told that in Hell it was even worse because you got to see God but then you knew that you would never see him again. And it's sorta using that as the parallel. And the idea of seeing something incredibly beautiful, having a religious experience as such, but not being able to get back there. And it was playing musically with the idea of the verses being sorta real time and someone happily jumping through life [Makes happy motion with head] and then you hit the chorus and it like everything sorta goes into slow mo and they're reaching [Makes slow reaching motion with arm] for that thing that they want and they can't get there." The track was tapped as a European 45:
- 1981's 'Suspended In Gaffa' b/w 'Dreamtime' (instrumental) (EMI catalog number 1A 006-64972)
The single was accompanied by a fascinating promotional video. Having viewed the video, someone described her performance along the lines of "she's Bowie without all the different personas and cocaine ..." Great description. Kate Bush - Suspended in Gaffa - Official Music Video - YouTube
5.) Leave It Open (Kate Bush) - 3:20 rating: **** stars
Rhythmically rich and featuring a driving beat (be ready when the drums start blasting around the two minute mark), 'Leave It Open' is also one of the strangest tunes she's recorded. The track featured heavily treated vocals and what I thought were backwards tapes, but was actually Bush having learned how to sing the phrase "We let the weirdness in" so that it sounded like it was backwards. Geez !!!. In a 1982 NME interview with Richard Cook Bush describe the song as: "Leave It Open' is the idea of human beings being like cups - like receptive vessels. We open and shut ourselves at different times. It's very easy to let you ego go "nag nag nag" when you should shut it. Or when you're very narrow-minded and you should be open. Finally you should be able to control your levels of receptivity to a productive end."
(side 2)
1.) The Dreaming (Kate Bush) - 4:41
Geez, complete with Didgeridoo, Australian accent, Aboriginal chanting and various animal sound effects, imagine listening to a world music tune on a bad acid trip ... Yeah, the title track was completely bizarre and simply fascinating. The track was one of the last written and recorded for the album and was originally entitled 'The Abo Song.' Unaware" Abo" was a slur term for Aborigines, the song was quickly re-titled 'Dreamtime' and finally 'The Dreaming.' Bush talked about the song in a 1982 interview with Poppix: "Well, years ago my brother bought 'Sun Arise' [by Rolf Harris] and I loved it, it was such a beautiful song. And ever since then I've wanted to create something which had that feel of Australia within it. I loved the sound of the traditional aboriginal instruments, and as I grew older, I became much more aware of the actual situation which existed in Australia between the white Australian and the aborigines, who were being wiped out by man's greed for uranium. Digging up their sacred grounds, just to get plutonium, and eventually make weapons out of it. And I just feel that it's so wrong: this beautiful culture being destroyed just so that we can build weapons which maybe one day will destroy everything, including us. We should be learning from the aborigines, they're such a fascinating race. And Australia - there's something very beautiful about that country."
In tandem with the album itself, the track was released as the second single. Bush intended to release a 12" version, but the absence of sales quashed the plan.
- 1982's 'The Dreaming' b/w 'The Dreaming' (instrumental) (EMI catalog number 5296)
Naturally it was accompanied by a promotional video: Kate Bush - The Dreaming - Official Music Video - YouTube Whereas some of Bush's videos help clarify her lyrical ideas, that's not the case with this one.
2.) Night of the Swallow (Kate Bush) - 5:22
'Night of the Swallow' was recorded in Ireland with members of The Chieftains and the Irish band Planxty. As you'd expect Bush-goes-Celtic is different. Yes, there was plenty of acoustic instrumentation, but it was there for color and didn't really change Bush's unique take on the ballad. Bush discussed the song in a 1982 edition of her fan club newsletter: "Ever since I heard my first Irish pipe music it has been under my skin, and every time I hear the pipes, it's like someone tossing a stone in my emotional well, sending ripples down my spine. I've wanted to work with Irish music for years, but my writing has never really given me the opportunity of doing so until now. As soon as the song was written, I felt that a ceilidh band would be perfect for the choruses. The verses are about a lady who's trying to keep her man from accepting what seems to be an illegal job. He is a pilot and has been hired to fly some people into another country. No questions are to be asked, and she gets a bad feeling from the situation. But for him, the challenge is almost more exciting than the job itself, and he wants to fly away. As the fiddles, pipes and whistles start up in the choruses, he is explaining how it will be all right. He'll hide the plane high up in the clouds on a night with no moon, and he'll swoop over the water like a swallow. Bill Whelan is the keyboard player with Planxty, and ever since Jay played me an album of theirs I have been a fan. I rang Bill and he tuned into the idea of the arrangement straight away. We sent him a cassette, and a few days later he phoned the studio and said, "Would you like to hear the arrangement I've written?" I said I'd love to, but how? "Well, Liam is with me now, and we could play it over the phone." I thought how wonderful he was, and I heard him put down the phone and walk away. The cassette player started up. As the chorus began, so did this beautiful music - through the wonder of telephones it was coming live from Ireland, and it was very moving. We arranged that I would travel to Ireland with Jay and the multi-track tape, and that we would record in Windmill Lane Studios, Dublin. As the choruses began to grow, the evening drew on and the glasses of Guiness, slowly dropping in level, became like sand glasses to tell the passing of time. We missed our plane and worked through the night. By eight o'clock the next morning we were driving to the airport to return to London. I had a very precious tape tucked under my arm, and just as we were stepping onto the plane, I looked up into the sky and there were three swallows diving and chasing the flies.."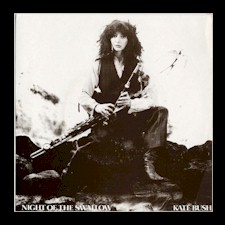 The Irish theme probably explains why the track was released as a single in Ireland:
- 1983's 'Night of the Swallow' b/w 'Houdini' (IEMI catalog number 9001)
3.) All the Love (Kate Bush) - 4:29 rating: **** stars
Perhaps it was Del Palmer's fretless bass, but I've always felt 'All the Love' had a jazzy edge. Weird in a Joni Mitchell jazz-era way (think along the lines of "Mingus" or "Hejira"). The voicemail section was ... well either brilliant, or mad. And as she discussed in one of her fanzine newsletters, brilliant seems to be applicable: "Although we are often surrounded by people and friends, we are all ultimately alone, and I feel sure everyone feels lonely at some time in their life. I wanted to write about feeling alone, and how having to hide emotions away or being too scared to show love can lead to being lonely as well. There are just some times when you can't cope and you just don't feel you can talk to anyone. I go and find a bathroom, a toilet or an empty room just to sit and let it out and try to put it all together in my mind. Then I go back and face it all again. I think it's sad how we forget to tell people we love that we do love them. Often we think about these things when it's too late or when an extreme situation forces us to show those little things we're normally too shy or too lazy to reveal. One of the ideas for the song sparked when I came home from the studio late one night. I was using an answering machine to take the day's messages and it had been going wrong a lot, gradually growing worse with time. It would speed people's voices up beyond recognition, and I just used to hope they would ring back again one day at normal speed. This particular night, I started to play back the tape, and the machine had neatly edited half a dozen messages together to leave "Goodbye", "See you!", "Cheers", "See you soon" .. It was a strange thing to sit and listen to your friends ringing up apparently just to say goodbye. I had several cassettes of peoples' messages all ending with authentic farewells, and by copying them onto 1/4'' tape and re-arranging the order, we managed to synchronize the 'callers' with the last verse of the song. There are still quite a few of my friends who have not heard the album or who have not recognised themselves and are still wondering how they managed to appear in the album credits when they didn't even set foot into the studio."
4.) Houdini (Kate Bush) - 3:48 rating: **** stars
Yes, 'Houdini' was inspired by Harry Houdini, but maybe not the Houdini most of us remember. The song was also the inspiration for the album cover - the key shown in Bush's mouth representing the way Houdini's wife Bess would pass an escape key to her husband. The song was apparently based on the plan the pair had developed which included a secret code they would use in an attempt to communicate after his death. Musically the range Bush displays on the song was stunning - little lost girl to death metal winch in under four minutes. In a 1982 interview with Poppix, Bush explained the song's roots: "During his incredible lifetime Houdini took it upon himself to expose the whole spiritualist thing - you know, seances and mediums. And he found a lot them to be phoney, but before he died Houdini and his wife worked out a code, so that if he came back after his death his wife would know it was him by the code. So after his death his wife made several attempts to contact her dead husband, and on one occasion he did come through to her. I thought that was so beautiful - the idea that this man who had spent his life escaping from chains and ropes had actually managed to contact his wife. The image was so beautiful that I just had to write a song about it." What Bush failed to mention is that his wife Bess later came to doubt the posthumous contact; thinking someone had learned what the secret code was and used it to trick her.
5.) Get Out of My House (Kate Bush) - 5:25 rating: **** stars
'Get Out of My House' was one of those tracks that just left me in the dark. With a dark haunted feeling, I remember hearing Bush screaming the title refrain over and over and thinking you really wouldn't want to confront a pissed-off Bush. And the donkey sounds ... what the hell? Luckily Bush provided an explanation of the song in a 1982 edition of her fan club newsletter: "The Shining' is the only book I've read that has frightened me. While reading it I swamped around in its snowy imagery and avoided visiting certain floors of the big, cold hotel, empty for the winter. As in 'Alien', the central characters are isolated, miles (or light years) away from anyone or anything, but there is something in the place with them. They're not sure what, but it isn't very nice. The setting for this song continues the theme - the house which is really a human being, has been shut up - locked and bolted, to stop any outside forces from entering. The person has been hurt and has decided to keep everybody out. They plant a 'concierge' at the front door to stop any determined callers from passing, but the thing has got into the house upstairs. It's descending in the lift, and now it approaches the door of the room that you're hiding in. You're cornered, there's no way out, so you turn into a bird and fly away, but the thing changes shape, too. You change, it changes; you can't escape, so you turn around and face it, scare it away." It's relatively unknown, but Bush filmed a rather disturbing promotional video for the song: Kate Bush - Get Out Of My House - YouTube