I was pawing through some records at a yard sale and stumbled across this Brian Davison release. I actually recognized Davison's name from his days drumming with The Nice and initially put the album down thinking it was going to be an something even more pretentious than your normal set of Nice progressive moves. Anyhow, I remember having read that Davison had recently passed on (this was back in 2008)', so I went ahead and bought the album, dumping it in my to-listen-too pile where it sat for the next four years.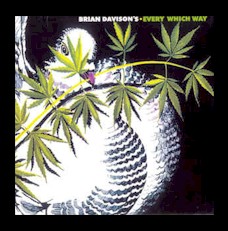 As mentioned, I figured this album was going to be a continuation of Davison's Nice-styled progressive moves. Boy was I ever wrong. So technically this collection isn't even a Davison solo effort, rather reflects a post-Nice project with former Skip Bifferty singer/keyboardist Graham Bell, bassist Alan Cartwright, lead guitarist John Hedley, and multi-instrumentalist Geoff Peach. Collectively known as Every Which Way (which I've always thought was a great name for a band), the group were among the first to be signed to Nice manager Tony Stratton-Smith's newly formed Charisma label, though the album saw an American release on Mercury with a far inferior cover. As you can see for yourself, the plant material shown on the original English cover made it unsuitable for American audiences.
The group made their recording debut with the release of a 1970 non-LP 45:
1970's 'Go Placidly' b/w 'he Light' (Charisma catalog number BD-1)
While Davison was credited with producing, "Every Which Way", Graham Bell came off as he band's prime creative force. Not only did he handle all of the lead vocals and keyboards, but he was responsible for writing most of the album's six songs. In contrast, whereas Davison's adventuresome drums had always been showcased in The Nice's over-the-top catalog, this time out he was left with a much more traditional supporting role, providing a rock solid foundation along with bassist Cartwright To be perfectly honest, musically the album wasn't the most original thing you've ever heard. Offering up a hybrid mixture of English folk, jazz, and progressive moves, tracks like 'Castle Sand' and 'Go Placidly' bore more than a passing resemblance to ealy-1970s Steve Winwood and Traffic. As a big Traffic fan that comparison actually sat well with me, but others might not be as impressed. To my ears Bell had a great voice. Rugged, raw, and powerful, technically I'd argue his voice was actually more dynamic than Winwood's. Regardless, the comparisons were unmistakable and if that wasn't enough, Geoffrey Peach's reed work was highly reminiscent of Chris Wood's work. That aside, the band's secret weapon was found in guitarist John Hedley. Unlike so many of his compatriots, Hedley didn't seem to live for the chance to solo, rather played with considerable restraint and continual taste. Yeah, exemplified by material like 'Bed Ain't What It Use To Be' and 'The Light' he could bust an extended solo with the best of them, but it wasn't an in-your-face case of exhibitionism. Hard to believe that Hedley didn't garner more attention ... One of those albums that sneaks up on you and rewards repeated spins.
"Every Which Way" track listing:
(side 1)
1.) Bed Ain't What It Use To Be (Graham Bell) - 9:25 rating: **** stars
Opening up with some tasty John Hedley guitar and a nice Alan Cartwright bass line, 'Bed Ain't What It Use To Be' opened the album was a bluesy, mid-tempo rocker that's always reminded me of a really good Ritchie Havens song. Hedley's jazzy-inflected solo was simply wonderful with Bell turning in a fantastic, soul ravishing vocal. Even Geoffrey Peach's sax solo sounded impressive in these surroundings. You'd be hard pressed to find another nine minute + song that rolled by so fast.
2.) Castle Sand (Graham Bell) - 6:40 rating: **** stars
Showcasing Peach's pretty reed work, 'Castle Sand' had one of those jazz-meets-progressive melodies coupled with a folk tale lyric that gave it an overall sound recalling early-1970s Steve Winwood and Traffic. This was also the one track that highlighted Davison's percussion.
3.) Go Placidly (Graham Bell) - 3:47 rating: **** stars
Previously released as a single 'Go Placidly' was probably he album's most commercial number. A pretty, folk-tinged ballad, Bell's vocals sure recalled Steve Winwood, while Peach's flute solo would have made Chris Wood proud. Anyone who enjoyed early Traffic was going to love this one.
(side 2)
1.) All In Time (Nifords) - 8:47 rating: **** stars
Built on an instantly catchy hook, showcasing some of Hedley and Peach's finest moments, 'All In Time' sported the album's most mainstream melody. It would have made a dandy single with a bit of judicious editing (since the LP track clocked in at almost 9 minutes).
2.) What You Like (Graham Bell - Nifords) - 3;35 rating: ** stars
The album's lone misstep, 'What You Like' found the band taking a stab at Soft Machine-styled progressive moves. Fairly discordant and skitterish with an extended Hedley-Peach guitar and sax solo segment,, this was the one selection you could skip without missing anything.
3.) The Light (Graham Bell) - 6:15 rating: **** stars
The album's toughest rocker, 'The Light' featured another nice Hedley and Peach solo segment, but this time around surrounded it with a blazing, blues-rock melody.
Had this been a Traffic album, critics and the buying public would have embraced the results. Instead the set was greeted with complete indifference and the band quickly called it quits.
- Bell went on the form Bell & Arc and died in 2008.
- Cartwright became a member of Procol Harum.
- Davidson rejoined formed Nice alumnus Lee Jackson in Jackson Heights, followed by a stint in Refugee. Personal and health issues left him sidelined throughout the late 1970s and early 1980s and he subsequently turned his attention to academia, though in 2002 he rejoined Keith Emerson and Jackson for a reunion of The Nice. The reunited band toured the UK and even released a live album. Sadly, only 65, Davison died of a brain tumor in 2008.
- Hedley's remained active in the music business playing in a number of bands, most which never recorded. One of the exceptions was Last Exit. He's also continued to work as a sessions player and as a touring musician - he's apparently a regular on cruise ships.
- Peach went on to play in a number of bands including Lake and Mott the Hoople.