Every once in a while I stumble across an album that blows my perspectives apart. It may not be a package that I play on a regular basis, but it'll be a project that makes me rethink long held opinions on an artist's capabilities, or worth.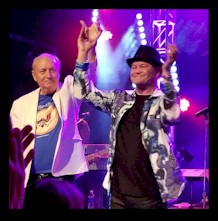 Released shortly before the death of Michael Nesmith, 2021's "Dolenz Sings Nesmith" is one of those rare albums. So, I'll readily admit to being a Monkees fan. I grew up watching the band on television - well the reruns of their television show. At the same time I heard and largely believed the criticisms that The Monkees were little more than musical product meant to squeeze disposable income out of our wallets. I also found drummer/vocalist Mickey Dolenz to be the most annoying member of the band. His "cutesy" character just rubbed me the wrong way. Yeah, the late Davy Jones came in a close second. I also recognized singer/guitar Michael Nesmith was the most talented of the gang, but his longstanding affection for country themes frequently put me off his recording catalog.
Produced by Nesmith's son Christian, 2021 "Dolenz Sings Nesmith" was apparently a project Dolenz had been interested in undertaking for a couple of years. The recording sessions seem t
o have been inspired by an album recorded by Dolenz's longtime friend Harry Nilsson. Back in the late 1960s - Nilsson recorded an album of Randy Newman covers - "Nilsson Sings Newman." The inspiration was certainly apparent to anyone looking at Tim Johnson's cover art - if you look close you can even see Dolenz driving with Nesmith in the back seat. Recorded over a six month period prior to Nesmith unexpected December 2021 death, the thirteen tracks covered the breadth of Nesmith's writing career, including a mixture of tunes recorded by The Monkees, material recorded by outside artists, and several of Nesmith's post-Monkees First National Bank-era compositions. While most of the remakes will sound familiar to Nesmith fans, these versions come across as fresh and inspiring. A couple of performances reflected vastly different approaches. Check out the raga-rock version of 'Circle Sky', the rock arrangement on 'Keep On' and the sped-up country-rock cover of 'Propinquity (I've Just Begun To Care).' Tracks like the opener 'Carlisle Wheeling' and 'Different Drum' showcased Dolenz's enthusiastic and effective performances. I have to admit I kept wondering when did this guy become such an impressive singer? Not only that, but how did a guy in his mid-'70s sound so friggin' good? No, the set wasn't perfect. 'Don't Wait for Me' remained a pretty, but forgettable country ballad. And like any covers album, it is easy to second guess the song selection. Nesmith's catalog is deep, reflecting a mix of hits and little know chestnuts. As much as I liked these 13 selections, I would not have minded hearing Dolenz take on some other tracks in Nesmith's extensive catalog. Nah, I don't need to hear 'Rio', or any of the Monkees hits, but my selections would have dropped 'You Are My One' and 'Don't Wait for Me' for something like 'Cruisin'', 'Some of Shelley's Blues', 'Sunny Girlfriend', 'Silver Moon', and 'The Door Into Summer' all come to mind. Yeah, second guessing gets you nowhere and I'm sure each of the tunes Christian Nesmith and Dolenz picked had a special meaning. All told, it makes for a wonderful posthumous tribute to Nesmith ...
"Dolenz Sings Nesmith" track listing:
(side 1)
1.) Carlisle Wheeling (Michael Nesmith) - 4:09 rating: **** stars
I'm not a Monkees scholar, but I believe 'Carlisle Wheeling" was originally recorded during sessions for 1968's "The Birds, The Bees and The Monkees." Like many other Nesmith compositions, it ended up on the cutting room floor, before appearing on Nesmith's 1968 solo project "The Wichita Train Whistle Sings." Re- titled 'Conversations' it then appeared on Nesmith's 1970 "Loose Salute" album. The original Monkees' version finally saw the light of day on 1988's "Missing Links, Volume One" anthology. The version Nesmith recorded with the Monkees is difficult to peg. Country-rock? Country-psych? Dolenz's cover held on to the melody, but added Baroque orchestration to the opening, ditching some of the country-tinge and doubled up on the beat. Yeah, he kept the mid-song weirdness. Always loved Ian Walker's acoustic bass.
2.) Different Drum (Michael Nesmith) - 2:48 rating: **** stars
The collection's earliest composition, Nesmith wrote 'Different Drum' in 1964. The track was recorded by The Greenbriar Boys for their 1966 album "Better Late Than Never!" Nesmith then offered the song to The Monkees management team, only to have it rejected. A frustrated Nesmith then offered the song to a young Linda Ronstadt and her band The Stone Poneys who promptly enjoyed a top-10 hit with it. As Monkee fanatics will know, under the alias Billy Ray Hodstetter, Nesmith eventually managed to perform a "spoof" version of the song on a December 1968 episode of The Monkees television show "Too Many Girls": The Monkees - "Different Drum" from "Too Many Girls" - YouTube Nesmith also revisited the tune on his 1972 album "And the Hits Just Keep On Comin." His remake was interesting for including an additional verse not heard on earlier renditions. Dolenz's version ditched some of Ronstadt's "hurt" factor for a bubbly arrangement. It was one of those rare arrangement where his cuteness factor actually benefited the results. During the final 2020 - 2021 "Monkees" tour, Dolenz performed a couple of songs off the album. YouTube has a clip from September 2021 show at the San Jose Civic Center: Different Drum, Evening with The Monkees, Mike Nesmith and Mickey Dolenz, San Jose Civic, 9/15/2021 - YouTube
3.) Don't Wait for Me (Michael Nesmith) - 2:18 rating: ** stars
'Don't Wait For Me' originally appeared on 1969's "Instantly Replay." Nesmith and company played it as a conventional country ballad. Other than a nice acoustic guitar intro and overlay, Dolenz didn't really mess with the song, which is probably why I'd give the nod to the original.
4.) Keep On (Michael Nesmith) - 4:46 rating: **** stars
I knew 'Keep On' as a country tune from Nesmith's 1972 set "And the Hits Just Keep On Comin'" Perhaps inspired by his work with outside writers as part of the 2016's "Good Times!" Monkees reunion album, Dolenz's remake replaced the country melody with treated vocals and a very modern sounding rock arrangement. Powered by some awesome lead guitar from Nesmith's son Christian, the remake was unrecognizable, though as much as I liked the original, the remake appealed to my rock sensibilities.
5.) Marie's Theme (Michael Nesmith) - 4:38 rating: **** stars
'Marie's Theme' was originally recorded for 1975's "The Prison." It also appeared on the 2010 live set "The Amazing ZigZag Concert". Originally performed as a pretty country ballad in the middle of a convoluted concept album, this was the kind of Nesmith's catalog that just didn't click with me. For his cover this was another one where Dolenz kept the country tinged feel (pedal steel), but upped the propulsion and pop-quotient of the arrangement. Lots of words on this one ...
6.) Propinquity (I've Just Begun To Care) (Michael Nesmith) - 4:47 rating: **** stars
A Monkees era tune that initially appeared on Nesmith's 1972's "Nevada Fighter" solo album, 'Propinquity (I've Just Begun To Care)' showcased Nesmith's affection for country-rock and his knack for unusual lyrical insights. In this case, the plotline seemed to be a guy who suddenly realizes his love match has always right next to him and he just didn't recognize her. I also distinctly remember Red Rhodes pastoral pedal steel solo on the original. Dolenz kept the basic melody but dumped the original's languid arrangement for a sped up arrangement that put the emphasis on a country-rock sound. Once again Nesmith's son Christian added the sterling guitar. One of the album highlights.
(side 2)
1.) Nine Times Blues (Michael Nesmith) - 2:25 rating: ** stars
'Nine Times Blues' was another mid-'60s Monkees composition that didn't see daylight until it appeared on 1988's "Missing Links, Volume One" anthology. A pretty, country-tinged tune, Nesmith reworked it as a weird banjo and big band instrumental for his 1968 solo project "The Wichita Train Whistle Sings." It also appeared on "Michael Nesmith and The First National Band" album. One of the album's few outright missteps, Dolenz presented the song as a lounge act ballad. The stark piano and vocal arrangement spotlighted Dolenz's over-the-top theatric presentation. The female chorus at the end of the tune just made it worse.
2.) Little Red Rider (Michael Nesmith) - 4:36 rating: **** stars
As a slinky country-rocker, 'Little Red Rider' initially appeared on Nesmith and the First National Band's 1970 "Magnetic South" collection. The original Monkees funkier, horn-powered rock version appeared on 1996's "Missing Links, Volume III." This was another track where Dolenz ditched the original arrangement in favor of a much harder, bar band take. Once I got over the initial shock, I had to admit to be surprised at how well Dolenz's voice handled the track's rocking sound.
3.) Tomorrow and Me (Michael Nesmith) - 4:17 rating: *** stars
Written while under intense pressure from RCA to become more commercial, 'Tomorrow and Me' found Nesmith doubling down on his country roots. The opening track on 1972's "And the Hits Just Keep On Comin'" the song featured Red Rhodes on pedal steel and made for one of his loneliest and saddest compositions. Oboe and cello replaced the pedal steel and the country tinge was dropped for a more commercial feel, but perhaps because it was such a personal song, Dolenz didn't mess much with the arrangement.
4.) Circle Sky (Michael Nesmith) - 4:39 rating: **** stars
One of his best rockers with an irresistible rhythm, 'Circle Sky' initially appeared on the "Head" soundtrack and seemed to be a reflection on Nesmith's touring experiences. Interspersed with Vietnam era news footage, YouTube has a live Monkees performance of the track: The Monkees - Circle Sky (Live 1968) - YouTube A revamped version was recorded for 1996's "Justus." YouTube has a copy of the promotional video: The Monkees - Circle Sky (1997) - YouTube Alternative versions have cropped up on a number of compilations including "Monkeemania (40 Timeless Hits)", 1984's "Monkee Flips", 1990's "Missing Links, Volume II" and 2020's "The Monkees Live: The Mike & Mickey Show." The most drastically reworked tune, Dolenz reinvented the song as a lysergic drenched raga rocker. Incredibly strange and mesmerizing, it should appeal to Ravi Shankar (and Peter Tork) fans everywhere.
5.) Tapioca Tundra (Michael Nesmith) - 3:11 rating: *** stars
One of Nesmith's stranger compositions, 'Tapioca Tundra' first appeared of "The Birds, The Bees and the Monkees." Over the years Nesmith discussed the track's meaning a couple of times. In a 2013 interview with Goldmine he was quoted: "The song itself is about the moment when the performer realizes that the songs he or she sings belong to the people, the fans and the crowds who love the songs, and the performer is only there in service to that relationship. 'It cannot be a part of me, for now it's part of you." Whereas the original bounced between Vaudeville, rock and lysergic influences, Dolenz slowed the track down, adding some unusual tones (Janeen Rae Heiler on saw) before shifting it over to a good-timey, skat filled performance that would not have sounded out of place of a Paul McCartney solo album.
6.) Only Bound (Michael Nesmith) - 4:53 rating: *** stars
Originally released on 1971's "Nevada Fighter" the country ballad 'Only Bound' perfectly captured Nesmith's impeccable sense of loneliness and pain. Opening up with some pretty Christian Nesmith acoustic guitar, Dolenz slowed the tune down, jettisoning the country flavor in favor of more of a more commercial folk feel. Not my favorite performance, but I have to admit that his vocals were impressive.
7.) You Are My One (Michael Nesmith) - 1:09 rating: *** stars
Originally a breezy, laidback, tropical-tinged ballad, 'You Are My One' was a track off on 1972's "Tantamount To Treason, Vol. One." The Nesmith original didn't have all that much going for it - basically Nesmith repeating the title over and over and over before the track went into an extended instrumental section. Dolenz remained the song as a brief accapella piece with a Brian Wilson vibe.