I've had this obscurity in my collection for years. I remember finding it at a yard sale; playing it once, being under-whelmed, and putting it on the shelf where is sat for years. Anyhow, a couple of weeks back someone bought the LP. They asked about it and really all I could remember was "pop". Anyhow, this person bought the LP along with two dozen others; seemingly pulled an all-weekend listening session and promptly sent me a scathing email accusing me of mis-representing the LP (along with various other crimes) and demanded I replace it with some other high-priced LPs on their want list. Well that episode triggered my curiosity and I thought I'd give the LP another shot.
There simply isn't a great deal of information to be found on this group. Here's what the 'Smile!" liner notes say in terms of biographical information:
"Johnny and the Blue Notes originated in England (the England of the early Beatles at the start of the British music scene. The year was 1962, at the beginning of the dcade that was to revolutionize rock music, when the three Elizondo brothers from Newbury, a little town fifty miles west of London, formed Johnny and the Blue Notes. The group's name was derived from the Blue Beat, an English dance craze in the early '60s - a name that is still indicative of the down-to-ear soul and hard rock sounds the group puts down. Michael Elizondo is the leader of the group as well as lead guitarist. His brother Johnny plays the drums and serves as lead vocalist. Ronnie, the youngest, is the rhythm guiatrist and in 1968 they added cousin Louis Ackerman on bass. The music is a true cross-section of what a versatile group can do - from Latin beats to country and western. The group has been playing locally in Ogden, Utah where all the members are college students. On this first album you'll hear all the excitement that has been building in this group since their first gig at Greenham Common Teen Clib back in '63 with all the freshness of their first recording."
Having read that background material, I'll admit thinking it was all made up crap, until I happened to stumbled across an on-line obituary for the band's former manager. Guess they were a true performing band.
Somehow the band was signed to the Capitol affiliated Winsor label, making their album debut with the self-produced "Smile!". Musically the album was a hodgepodge of originals and covers, the band taking stabs at a broad array of musical genres including garage ('Smile!'), psych (a cover of The Yardbirds' 'The Nazz Are Blue', soul (a cover of The Temptations' 'Just My Imagination Running Away with Me', and curiously, a pair of Santana-styled Latin rockers ('No Me Llames Chicano' and 'Venga com Migo'). Was this a great LP ? Not by a country mile. Judging by these eight tracks these guys had minimal musical talent and virtually no creativity. That said, the title track was enjoyable fun and the two Santana-styled rockers were just so bizarre ...
"Smile!" track listing:
(side 1)
1.) Smile! (Michael Elizondo - John Elizondo) - 3:28 rating: **** stars
With a mid-'60s garage-rock feel, the title track was probably the album's most commercial number. Yeah it sounded way more 1966 than 1969, but kicked along by Johnny's ragged, blued-eyed soul voice, this one was catchy and goofy enough to be fun. Imagine Three Dog Night at their funkiest and you'll have a feel for the song. Would have made a nice single if it had been recorded and released a couple of years earlier.
2.) The Nazz Are Blue (Drega - Relf- Samwell-Smith - McCathy - Jeff Beck) - 3:28 rating: ** stars
Their Yardbirds cover opened up with Michael providing some impressive driving fuzz guitar and then fell into sub-par bar band cover moves with some of the album's most irritating vocals. I will give them credit for showing good tastes in cover material.
3.) Just My Imagination Running Away with Me (Norman Whitfield - Barrett Strong) - 3:55 rating: ** stars
Musically their cover of The Temptations hit didn't wander too far away from the original, though the vocals were painfully thin - you were literally left to wonder if these guys were going to make it through the song.
4.) No Me Llames Chicano (Michael Elizondo - John Elizondo) - 4:59 rating: **** stars
Four English kids attending college in Utah pull off a very good Santana impression ... sounds too cute to be true, but I guess it's true. Can't say much for the lyrics which repeat the title time after time, but the melody was quite nice with lots of Latin percussion and Michael turning in a tasty Santana-styled lead guitar performance. The track was tapped as a single.
- 1969's 'No Me Llames Chicano' b/w 'Carol ' (Winsor catalog number RL 101)
(side 2)
1.) Carol (Chuck Berry) - 2:47 rating: ** stars
Mildly energetic cover of the classic Chuck Berry tune that added zero to the hundreds that have gone before and come after it.
2.) Venga com Migo (Ron Elizondo - John Elizondo - Lou Ackerman) - 6:52 rating: *** stars
More Santana-styled Latin rock with more lead guitar and less melody that the first time out. Again, strange hearing it coming from four English guys apparently living in Utah.
3.) Don't You Take My Love Away (Michael Elizondo - John Elizondo) - 2:52 rating: ** stars
Conventional throwaway pop, 'Don't You Take My Love Away' sounded like something Bobby Goldsboro, or one of those early-'70s pop singers might have crooned. The trumpet solo gave it a very MOR-ish feel and the raspy vocal was borderline painful.
4.) Shake a Tail Feather (Hayes - Williams - Price) - 3:05 rating: ** stars
So why not go out on a highlight ? Well they at least picked a good song to cover, even it the performance was strictly lounge act.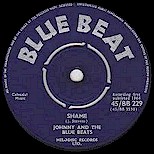 I'm sure someone out there will know the answer ... There's a 1964 single credited to the same nameplate, but I don't know if its the same band:
- 1964's 'Shame' b/w 'Ball And Chain' (Blue Beat catalog number BB 269)
Johnny & the Blue Beats formed in 1962. They were three brothers, Johnny, Michael & Ronnie Elizondo. Their Bass guitarist was their cousin Louis Ackerman. The Mexican Elizondo brothers were living with their family in Newbury, England (50 miles west of London) when Rock & Roll hit big over there. They formed their own band along with Louis Ackerman and started playing teen dances while hoping to make the big time. This was also the same time that young bands like the Beatles and The Rolling Stone were struggling to make it. They played for several years in England and then the band decided to move to Ogden, Utah in the U.S. where they all enrolled in College. For a while the band took a back seat to their studies. They did play occasional gigs around Utah. After College they managed to get a record deal in 1971. They recorded the album "Smile" which was basically made up of songs they had been playing live during the 60s. Several reach back to their Latin heritage.
The late Michael Elizondo, USAF Maj., & Charlene, were my Godparents. The Band was: (Photo from top left, clock-wise)Johnny (drums, lead vocals), Ronnie (rhythm guitar, horns, elect. Piano, backing vocals), Michael Elizondo (Lead guitar, backing & lead vocals, and cousin Louis Ackerman (Bass). Their Capitol recording contract, which included the "Smile" album, was the Grand Prize they won, by winning Utah's Battle of the Bands, and being named Utah's Top Band. I was 8, and in the studio, when it was recorded, given the job of working the stopclock, that timed each track. Uncle Mike paid me $10, for the work. Big money, in 1969. The ensuing years saw them touring Air Bases around the states, including The Galaxy Club, at Norton AFB (now San Berdoo Airport.) were I recall Mike sang a beautiful cover of Bread's, I Want to Make It (with You). In 1972, they also played on the Tomorrowland Stage, at Disneyland. I saw them rise up, opening up with Domino, No me llamas Chicano, Carol, Dancing in the Moonlight, and Right On, among others. Johnny was also known on the Ogden airwaves, as "Johnny Eli," a Top 40 DJ, in AM radio KSVN. I loved my "Uncle" Mike, & "Aunt," Charlene. The Elizondos were the best, coolest God-family, a '60's kid, could have. Personally, I always liked the B side of the Right On! 45, Love is the Answer, best.