Other than the cool, die-cut cover, the thing that caught my attention on this little known album was the stunning list of guest musicians. It really was an amazing list; the 23 names including members of Quiver, Stone the Crow and a future member of The Who. I remember thinking "who is this guy and how did he attract so many folks to play on an album?"
Turns out Billy Lawrie is the younger brother of Scottish singer Lulu. Like his older sister, he pursued music as a career, recording a string of late-'60s and early-'70s singles as a solo act and as a member of short-lived studio entities like The Fut and The Bloom-Fields (both which were basically one-off outfits featuring Bee Gees member Maurice Gibb). Lawrie was credited as being a member of both "groups" though his participation seems to have been limited to backing vocals. Can anyone spell nepotism? Maurice Gibb happened to be married to Lulu at the time.
- 1969's 'Roll Over Beethoven' b/w 'Come Back Joanna' (Polydor catalog number 56363)
The Fut
- 1969's 'Have You Heard the Word' b/w 'Futting' (Beacon catalog number BEA 160)
The Bloom-Fields and Heads, Hands & Feet
- 1972's 'The Loner' b/w 'Homing In On the Next Trade Wind' (Heads, Hands & Feet) (Pye catalog number )
In the early '70s The Bee Gees actually signed Lawrie to a recording contract which may have helped him attract the attention of RCA. Anyhow, 1973 saw Lawrie finally get a shot at recording a solo album. Co-produced by Lawrie and Gary Osborne, 'Ship Imagination' featured a set of largely original material. I've listened to the collection a dozen times and the album's most impressive facet was Lawrie's voice; followed by the cast of guests. Sweet and quite dynamic, his performances were uniformly impressive, but at the time nobody seems to have had a great deal of faith in his voice. Time after time tracks like the pretty mid-tempo 'Flying', 'Shalee Shala', and 'Freedom' found Lawrie buried in busy arrangements and swamped by loud, irritating backing singers. It really was a shame since Lawrie and his co-writers (including one Richard Starkey on 'Rock & Roller'), churned out a series of highly commercial, radio friendly tunes. At least half of the album is memorable; the pseudo Mott the Hoople-esque 'Blue Chelsea Tuesday' and the weird proto-Coke commercial 'I Can Take You There' among the highlights.
Well worth tracking down since you can still find affordable copies.
Speaking of which, I have no idea if it is a legitimate reissue, but in 2016 the Japanese Vivid Sound/Pig Pink label reissued the album in CD format catalog numbers VSCD-5677 and Big Pink 428)
"Ship Imagination" track listing:
(side 1)
1.) Ship Imagination (Billy Lawrie - Gary Osborne - Paul Vigrass) - rating: *** stars
The title track underscored my concerns this was going to be a bland set of overly sensitive singer-songwriter ballads. Lawrie's voice was pretty and heartfelt (Cat Stevens anyone), and complete with Peter Woods' accordion, the melody was commercial and radio friendly, if slightly anonymous. The na-na-na chorus has always reminded me of another song, though I've never been able to pin it down.
2.) Rock & Roller (Billy Lawrie - Richard Starkey) - rating: *** stars
Yeah, Ringo co-wrote the track and in spite of myself, I have to admit I kind of liked the bouncy 'Rock & Roller.' With a patented T-Rex-esuqe retro-rock sound (you wondered how Lawrie managed to get so many people into a recording studio), there wasn't a single original thought across the song. The melody was a textbook effort that you'd heard dozens of times before and the female backing singers were shrill and irritating. Just when you thought the song was over it launched into a needless and extended fade out. Still, it sounded like the stoned crowd was having fun. RCA tapped it as the leadoff single:
- 1973's 'Rock & Roller' b/w 'Shalee Shala' (RCA catalog number 2439)
3.) Flying (Billy Lawrie - Gary Osborne) - rating: **** stars
Opening up with some pretty Gary Osborne acoustic guitar (Barry Clark and Jimmy McCulloch on electric guitar), 'Flying' was a pretty ballad that showcased Lawrie's sweet and likeable voice. Shame Lawrie and Osborne didn't have more faith in his voice; instead burying him in waves of instrumentation and those irritating backing singers.
4.) Shalee Shala (Billy Lawrie - Gary Osborne - Paul Vigrass) - rating: **** stars
Peter Woods' goofy ARP opening sound effects weren't exactly inviting and when Osborne's acoustic 12 string kicked in, the song briefly sounded like it was heading in Pink Floyd direction. That was only momentarily since it quickly morphed into a pretty, atmospheric ballad. Once again, Lawrie proved to be a strong singer, but Tim Renwick's feedback laced guitar solos kept distracting you from the vocals.
5.) I Feel Fine (John Lennon - Paul McCartney) - rating: *** stars
Picking a Beatles tune as the album's lone cover hardly struck me as a brilliant move. Once again Lawrie proved me wrong. Holding on to the basic melody, Lawrie added a touch of country to the arrangement and a pair of nice guitars (McCulloch) and Barry Clark on slide guitar. To my ears it had kind of a Leon Russell funky sound. You won't throw away your Beatles original, but this wasn't half bad.
(side 2)
1.) Blue Chelsea Tuesday (Billy Lawrie - Gary Osborne - Paul Vigrass) -
My favorite performance, the bouncy 'Blue Chelsea Tuesday sounded like Ian Hunter and Mott the Hoople having decided they were going to score a top-40 song come hell or high water. Having Jimmy McCulloch and half of Stone the Crows providing support didn't hurt. The song was tapped as the sophomore 45: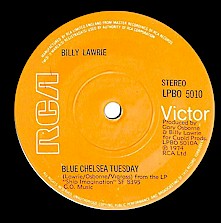 - 1974's 'Blue Cheese Tuesday' b/w 'I feel Fine' (RCA catalog number LPBO 5010)
2.) Lady Lovely (Billy Lawrie - Gary Osborne) - rating: *** stars
Showcasing Joe Partridge's mandolin, the folk ballad 'Lady Lovely' would have sounded at home on an album by Gallagher and Lyle, or any other mid-'70s folk-rock enterprise. Very pretty; would have made a dandy slow dance track at your prom.
3.) Freedom (Billy Lawrie - Maurice Gibb - Les Harvey) - rating: **** stars
Co-written with Maurice Gibb and Stone the Crows Les Harvey, 'Freedom' was apparently an older track, perhaps left over from the "Bloom-Fields" sessions. Nice melody and harmony vocals with a "Coke commercial styled" big statement lyrics. It's actually one of the album's most commercial performances. Gibb may have played bass on the track, though he's not listed in the performance credits.
4.) I Can Take You There (Billy Lawrie - Newton) - rating: **** stars
Once again the combination of Peter Woods ARP and Gary Osborne's acoustic 12 string guitar gave the opening a Pink Floyd flavor. Again it didn't last long with the song morphing into another pretty and commercial ballad. Lawrie's vocals were multi-tracked. Funny that I made a reference to Coke on the prior song. This one actually included Coke related lyrics - "(And I've heard that's the moral of the song) Coke, Coca Cola's cool it the cool coke taste that always gets you there ..." Was it written as a potential commercial ?
5.) Ways of a Woman (Billy Lawrie - Gary Osborne - Paul Vigrass) - rating: **** stars
What starts out sounding like another overblown ballad is saved by a nice chorus and one of Jimmy McCulloch's prettiest guitar solos. Kind of a Badfinger vibe going on here.
The album vanished without a trace, but RCA went ahead and released a non-LP single before dropping him from their recording rooster:
- 1974's 'Now My World Is Yours' b/w 'Ways of a Woman' (RCA catalog number LPBO 5039)
Coming from a family plagued with alcohol and addiction issues, Lawrie fell victim to the same demons and saw his recording career fizzle out. He turned his attention to songwriting and enjoyed considerable success over the years, placing material with the likes of his sister, The Bee Gees, Belinda Carlisle ('All God's Children'), and Tina Turner ('What's Love Got To Do with It" and 'I Don't Want To Fight'.)