I'll readily admit when I bought this odd looking LP, I had no idea Teddy Neeley was the guy who later starred in Jesus Christ Superstar.
Having spent a couple of years on the Texas club circuit, in 1965 Capitol signed The Ted Neeley Five to a recording contract. Along with front man/singer Neeley, the band was rounded out by rhythm guitarist Lynn Beady, bassist Jerry Le Mire, lead guitarist Billy Patton and drummer Paul Tabet.
The group debuted with a decent enough cover of the Burt Bacahrach - Hal David classic 'Always Something There To Remind Me' There cover was quite commercial, but the flip side was the true gem. 'Autumn Afternoon' was simply one of the best blends of Association-styled harmony pop and lysergic influences you're liable to ever hear:
- 'Always Something There To Remind Me' b/w 'Autumn Afternoon' (Capitol catalog number 5907)
YouTube has a clip of the group lip-synching the 'A" side on The Smothers Brothers Comedy Hour:
https://www.youtube.com/watch?v=PJeg43-FTmg
Based on the single's minor success and what was apparently seen as Neeley's potential as a solo artist, Capitol elected to finance an album. Even though it reflected a Ted Neeley Five product, the resulting album was marketed as a Neeley solo album, the rest of the band limited to micro-font credits on the back cover.
Co-produced by Charles Koppleman and Don Rubin, 1967's "Teddy Neeley" made it pretty clear neither the Koppleman-Rubin team, nor Capitol Records marketing department had any idea what to do with Neeley. Featuring all cover tunes, the album's dominate sound was throwaway commercial pop. Tunes like 'Contact', 'Where Are You' and 'Over the Mountain' were clearly geared fro the same audience that thought The Association, The Classic IV, and Tom Jones were musically cutting edge. To their credited, Koppleman and Rubin picked interesting writers (David Blue, the writing team of Alan Gordon and Garry Bonner and occasionally injected some topical ingredients into the mix - lightweight social commentary 'Bring the Whole Family'. Most of it wasn't half bad with Neeley exhibiting a strong, if slightly anonymous voice while the rest of the group (assuming they were actually playing, rather than anonymous studio pros), provided professional backing throughout. The sad thing was the album included isolated examples of what these guys could really have accomplished with the write support structure. One of three tunes written by Ted Daryll, 'Magic Touch' was a strong blue-eyed soul tune. Even better was 'My Baby and I '. Curiously, the album didn't include either side of the earlier single.
Equally odd, for some reason Capitol apparently thought getting Bobby Darin's stamp of approval would help sales. Darin penned the fawning liner notes, though you have to wonder if he actually ever heard the album:
"What's a TEDDY NEELY ? I'll tell you. A TEDDY NEELEY is a five-foot, six-inch, 125-pound atomic reactor plant about to turn on the whole world. A TEDDY NEELEY is a genuine young man with a sincere desire to be a performer's performer. A TEDDY NEELEY is a 22 year old musical personality with at least 22 years of success in front of him. Why do I say all this? Because I am a TEDDY NEELEY fan. I have seen him on stage two or three times in the past year and each time the audience reaction was the same as mine. They paid attention, they grooved and they waxed enthusiastic when his performance was over. It is foolish to ponder how a young man has all the natural ability at, quote, such an early age, unquote, because the answer is very simple. The world no longer is a place in which age has anything to do with sensitivity or ability. A TEDDY NEELEY IS young, but as is the case with his generation, he has been around a thousand years. There is a lot of music in this package. There is a lot of TEDDY NEELEY in that music. There is a lot of music in that TEDDY NEELEY. Let's get it on."
"Teddy Neeley" track listing:
(side 1)
1.) Contact (Alan Gordon - Garry Bonner) - 2:40 rating: *** stars
'Contact' was nice enough; a slightly MOR/Broadway-esque ballad that had some commercial potential. It has always reminded me of something Dennis Yost and The Classics IV might have recorded. Kind of a smooth, supper-club-ish, AOR pop ballad. That probably explains why Capitol had previously tapped it as a single:
- 1967's 'Contact' b/w 'Where You Are (Capitol catalog number 5967)
2.) Bring the Whole Family (John Boylan - Terry Boylan) - 2:43 rating: *** stars
Ah, social commentary with a slight lysergic feel. Personally I love this kind of stuff and there was no denying Neeley had a great voice for the genre. The song was also tapped as a promotion single: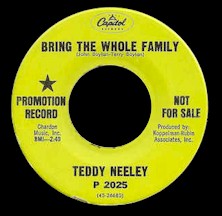 - 1967's 'Bring the Whole Family' b/w 'New In Town' (Capitol catalog number P 2025)
3.) Slow Moving Man (Alan Gordon - Garry Bonner) - 2:32 rating: *** stars
'Slow Moving Man' was a surprisingly slinky slice of blue-eyed soul. Given the pop stylings that dominated the rest of the LP, this one was quite a surprise.
4.) Where You Are (Neil Sheppard - Ray Fox) - 2:13 rating: ** stars
'Where You Are' found the group wallowing in samba-influenced pop. Very daytime TV-ish.
5.) Over the Mountain (Ted Daryll) - 2:10 rating: ** stars
Heavily orchestrated pop that sounded like something Tom Jones might have covered. Again, Neeley had a nice enough voice, but it was largely wasted on this tune.
6.) The Sound of Bugles (Ted Daryll) - 2:55 rating: *** stars
From a technical standpoint I've always liked the multi-tracked lead vocals. Ted Daryll's lyrics turned in what was a surprisingly right wing set of lyrics.
(side 2)
1.) Grand Hotel (David Blue) - 2:22 rating: *** stars
Nice folk-rock-ish cover of the David Blue tune and one of the few tunes that avoided the album's dominate MOR pop feel.
2.) Magic Touch (Ted Daryll) - 2:47 rating: **** stars
One of the album's most conventional and commercial pop tunes, it's surprising this one wasn't tapped as a single. Always liked the sax solo on this one.
3.) Young and Carefree (Dobyne - Jones) - 2:17 rating: ** stars
Hideous heavily orchestrated Las Vegas lounge act pop. Something that would not have sounded out of place in Bobby Darin's show.
4.) My Baby and I (Dobyne - Jones) - 2:02 rating: **** stars
With a distinctive Motown flavor and a Jerry Le Mire bass line that would have made James Jamerson proud, the atypical 'My Baby and I ' was easily the album's standout performance. Nice to hear Neeley toughening up his delivery. Should have been a big hit for the man.
4.) New In Town (Peries - Niel Sheppard) - 2:43 rating: **** stars
Anyone who's been a new kid in town is liable to understand the lyrics and crack a big smile when hearing the teenage heartbreak lyrics. Yeah, it was cheesy as all, but what a great tune.
5.) Look Here Comes the Sun (John Boylan - Terry Boylan) - 2:49 rating: ** stars
Bland, forgettable radio-ready ballad. Disappointing way to close the album out.
For anyone interested in the rest of his career, Neeley has a web presence at: http://www.tedneeley.com/