I've owned a Rev-Ola reissue copy for years, but in forty years of collecting, I've only encountered one original copy of this power-pop classic.
Stephen Burns was attending the University of Memphis when he started writing and recording material with help from various friends. By 1977 he was fronting a band under the name The Scruffs. The line-up had solidified around Burns, lead guitarist Dave Branyan, bassist Rick Branyan, and drummer Zeph Paulson. Coming out of the same music scene that saw The Hot Dogs (who?) and Big Star, the quartet scored a contract with the small Power Play label, which released the band's debut 45: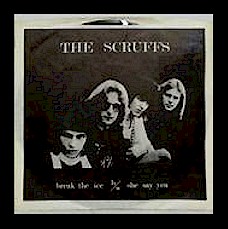 - 1977's 'Break the Ice' b/w 'She Say Yea' (Power Play catalog number PP 1955)
The single sold well regionally and Power Play had the band go back into Arden Studios and rerecord a selection of their earlier demos. The result was 1977's "Wanna' Meet the Scruffs?" Reportedly 2,500 copies were pressed before the label collapsed. With the band self-producing, Burns was responsible for all twelve tracks. Guitarist Branyan was credited with co-writing three tracks. I won't go as far as some of the hyperbole that claims this is the best ever album of mid-'70s power pop, but I'll admit it is pretty good. Reviews draw comparisons to Alex Chilton and Big Star, Eric Carmen and the Raspberries, and of course mid-period Fab Four. While I don't have a problem with those links, tracks like 'This Thursday' added a distinctive punk/new wave edge to the mix - not surprising as Burns and company have said they were big fans of Elvis Costello, Nick Lowe and other English punk/new wave bands. Dripping with adolescent angst (yeah, these guys were already in their 20s), the subject matter which was pretty much focused on women and sex; or lack of sex. Admittedly tracks like 'Frozen Girls', 'Revenge', and 'She Say Yea' were not going to win these guys a Nobel in literature. And to be fair, Burns' world outlook did included life's insecurities ('I'm a Failure') and the desire to be a rock star so he could get laid ('Break the Ice'). On the downside, Burns didn't have the strongest voice I've ever heard. Exemplified by tracks like 'She Say Yea' his delivery was occasionally fragile and wavery. Still, the whole package was well played, energetic and playful.
"Wanna' Meet the Scruffs?" track listing:
(side 1)
1.) Break the Ice (Stephen Burns) - 2:38 rating: *** stars
As mentioned, lots of write-ups draw comparisons to fellow Memphis band Big Star, but on the rocking opener 'Break the Ice' the baseline for comparison should be a young Eric Carmen and the Raspberries with a shout out to Elvis and Gene Vincent. Stephen Burns delivery was enthusiastic, if a bit ragged and a touch pedestrian. Elsewhere David Branyan turned in some nice jangle rock guitar leads. While I didn't find the track to be particularly original, or impressive, it was catchy enough and you could see why Power Play tapped it as a single
2.) My Mind (Stephen Burns) - 2:07 rating: **** stars
Powered by lots of strumming guitars and the band's sweet backing vocals, My Mind' was a pretty, if slightly ragged ballad. Extra star for the lovely group harmonies.
3.) You're No Fun (Rick Branyan - Stephen Burns) - 2:29 rating: **** stars
Listening to the mid-tempo rocker 'You're No Fun' I find myself imagining a punk band that could actually sing and had musical competence ... The third grader lyrics and Burns' snarling, snotty delivery reminded me a touch of Alex Chilton's musical demons.
4.) Frozen Girls (Stephen Burns) - 3:00 rating: *** stars
And speaking of Chilton ... The rocker 'Frozen Girls' sounded like Chilton trotting out his best Elvis delivery after he'd just gargled with a cup of glass shards. Always loved Rick Branyan's rollicking little guitar riffs and his killer solo.
5.) I've Got a Way (Rick Branyan - Stephen Burns) - 1:53 rating: *** stars
Have to say Zeph Paulson gets a big sound out of his drum kit. Though extremely brief, 'I've Got a Way' boasts plenty of energy; nice harmonies and an excellent Dave Branyan solo (all in under two minutes).
6.) Tragedy (Stephen Burns) - 2:07 rating: *** stars
While the performance was slightly raw (particularly Burms' vocals), the rocker 'Tragedy' boasted one of the album's more engaging melodies and showcased their nice harmonies. Again, The Raspberries comparison struck a chord with me.
6.) This Thursday (Stephen Burns) - 2:23 rating: **** stars
'This Thursday' offered up a slice of punk energy for folks that don't like punk with a touch of David Byrne and the Talking Heads weirdness added to the mix. Added star for Branyan's sterling guitar solo. Shame the track was so short.
(side 2)
1.) Revenge (Stephen Burns) - 2:48 rating: **** stars
Musically 'Revenge' was the album's standout performance melding a great melody with a touch of The Beatles and Badfinger showing up. Branyan even added a George Harrison-styled slide guitar solo. Again, the only disconnect came in the form of Burns' fragile, falsetto. Warning that if you were the parent of a daughter, after checking out the lyrics, you wouldn't want The Scruffs within a mile of your daughter.
2.) She Say Yea (Stephen Burns) - 2:47 rating: **** stars
This was the tune I would have tapped as a single. With a glistening melody and sticky chorus and heartbroken, horny teen lyric you had to wonder why the song didn't dominate mid-'70s radio.
3.) Tommy Gun (Stephen Burns) - 3:48 rating: *** stars
Always wondered if 'Tommy Gun' was a not so subtle nod to private parts ... Regardless of what the song was about, powered by a tasty little Branyan riff, it was a bouncy little rocker.
4.) Sad Cafe (Rick Branyan - Stephen Burns) - 2:30
With Dave Branyan handling lead vocals, 'Sad Cafe' was seemingly an autobiographical ditty about the joys of playing Memphis clubs. Again, he provided a solo that saved the song from oblivion.
5.) I'm a Failure (Stephen Burns) - 2:29 rating: *** stars
The bouncy garage-rock arrangement contrasted with Burns rip-my-voice-box-out delivery and the dark lyrics were a major contrast. Similarly the background "asylum" screams were a little disconcerting ... You probably guessed, but being a failure was apparently a reflection of being unable to score girls.
6.) Bedtime Stories (Rick Branyan - Stephen Burns) - 3:40 rating: ** stars
The album's lone misstep, the closing ballad 'Bedtime Stories' suffered from a bad case of Eric Carmen schmaltziness.
The LP attracted rave reviews from critics and their small cadre of loyal fans, but did little outside of Memphis sales wise. Power Play subsequently released a 45 pulled from material planned for a follow-on LP::
- 1978's 'Shakin'' b/w 'Teenage Girls' (Power Play catalog number PP 1957-A/B)
The band struggled on recording material for the planned second LP entitled "Teenage Gurls" but the project was shelved after completing about a half dozen tunes. It finally saw a 1998 CD release on the Burns' Northern Hemisphere label (catalog number NHM-40214).
The English Rev-Ola label reissued it in 2014 (RC REV 19).
The band relocated to New York City where they paid their bills working on the local club scene, including showcase stints at CBGBs and Max's Kansas City. By 1979 the Branyan brothers had quit, replaced by guitarist Steve O'Rourke and bass player Steve Wood. The revamped line-up released an obscure single on Charles Lamey's small New Jersey Sounds Interesting label:
- 1980's 'When Donna Romances' b/w 'Rock 'n' Roll Heads' (Sounds interesting catalog number SI45-006)
In spite of interest from Warner Brothers, the band could not land a contract. They struggled on through early 1981, before calling it quits.