Formed in 1971, Stepson featured former Wichita Fall drummer Len Fagen (aka Len Feigin), bassist Bruce Hauser, singer Jeff Hawks and lead guitarist Joey Newman. By this point in time three of the four were seasoned musical professionals with resumes that stretched back to the late-'60s. Newman and Hawks had been in Don and the Goodtimes. Newman, Hawks and Hauser had all been in Touch and following that group's demise Newman had played in Blue Mountain Eagle.
With the addition of drummer Len Fagen,1971 found Hauser, Hawks and Newman reunited as Stepson. Working LA's club scene eventually saw them gain a steady job as the house band at the Whiskey a Go-Go where they made connections with the likes of Arthur Lee of Love fame and Three Dog Night's Jimmy Greenspoon. Finally signed by ABC, the quartet made their debut with the Bob d'Orleans' 1971 produced "Stepson". Featuring an enthusiastic, if somewhat pedestrian collection of hard rock and blues rock numbers, the album's become quite a collectable over the years. Showcasing Hawks growling voice and Newman's chunky lead guitar, this was your typical "bell curve" album. What the hell's he talking about? Well, as you probably remember from statistics, the album's ten songs followed a bell curve in terms of quality. To my ears there were three excellent performances - the fuzz powered opener 'Rule In the Book', the bluesy, Free-styled 'Suffer', and the proto-Van Halen-styled closer 'Burnin' Hot'. At the opposite end of the spectrum 'Back to 'Bama', 'Man, I'm a Fool', and 'Turnpike' were pedestrian, forgettable blues and country-rockers. And in the middle were the other four tracks. A typical bell curve distribution. Professional, occasionally enthusiastic, but hardly original or groundbreaking. Think along the lines of Grand Funk Railroad, The J. Geils Band, or perhaps a touch of Free. As mentioned above, the most interesting tune here was the closer 'Burnin' Hot' which really did sound like a prototype for Diamond Dave and the Van Halen brothers.
"Stepson" track listing:
(side 1)
1.) Rule In the Book (Len Fagen - Jeff Hawks - Bruce Hauser - Joey Newman) - 3:23 rating: **** stars
Wow, if you ever heard the albums by Don and the Goodtimes, Touch, or Blue Mountain Eagle, this crushing fuzz powered rocker was going to come as a major surprise. Kicked along by Newman's blazing lead guitar and guest Jimmy Greenspoon on organ, this was a slice of blues-rock for folks who didn't like blues-rock. ABC tapped this song as a single for the Japanese market: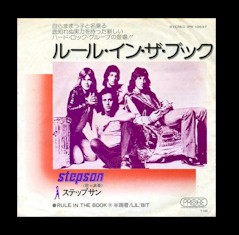 - 1974's 'Rule In the Book' b/w 'Lil' Bit' (Probe catalog number IPR 10637)
2.) Lil' Bit (Len Fagen) - 4:07 rating: *** stars
Bar band blues normally doesn't ring my bell, but 'Lil' Bit' was better than most things in the genre. Jeff Simmons on harp. It's always reminded me a bit of a hard rocking version of early-'70s Steve Miller.
3.) Rude Attitude (R. Atkins - C. D'Errico) - 3:29 rating: *** stars
A couple of years too early to be labeled punk, a bit too hard rock-ish to be labeled glam, but Hawks' sneering vocals gave 'Rude Attitude' a blaring in-your-face attitude. Docked one star for the hyper misogynic lyrics ...
4.) It's My Life (Jerry Goffin - Carole King) - 3:05 rating: *** stars
I'm guessing a record executive came up with the suggest they do this cover. Drenched in Newman's fuzz guitar, Hawks' dire vocals, and some chirpy female backing singers, the results could have been far worse ... Still, with so many first rate originals to chose from, you had to wonder why ABC tapped this one as the single for the German market.
- 1974's 'It's My Life' b/w 'Rude Attitude' (ABC catalog number 1C 006-95-991)
5.) I Apologize (Len Fagen - Jeff Hawks - Bruce Hauser - Joey Newman) - 5:44 rating: *** stars
Showcasing some of Newman's prettiest leads, 'I Apologize' found the band dipping their toes into a more soulful sound. The STD-oriented lyrics were certainly unexpected. It's also the only tune I've ever heard that references a lyric about "holding one's own ding dong".
(side 2)
1. Suffer (Jeff Hawks - Joey Newman) - 4:45 rating: **** stars
'Suffer' found the band at their blues-rock heaviest- picture an American version of Paul Rogers and Free. Again, nothing particularly original, but professional and enthusiastic. One of the album highlights.
2.) Back To 'Bama (Len Fagen - Jeff Hawks - Bruce Hauser - Joey Newman) - 2:36 rating: ** stars
Hearing a Northwest-based band singing a tune called 'Back To 'Bama' always makes me smile. Imagine Skynyrd singing "Driving to Portland' ... John Gallucci provided the barrelhouse piano, but this was still a slice of forgettable bar boogie. Under the title 'Alabam'; the late Gayle McCormick (of Smith fame), actually recorded the track before the band did - it appeared on her second solo album "Flesh and Blood".
3.) Man, I'm a Fool (Jeff Hawks - Bruce Hauser - Joey Newman) - 4:34 rating: ** stars
'Man, I'm a Fool' featured a hardcore blues sound. Competent, but hardly the most exciting four minutes you've ever heard.
4.) Turnpike (Bruce Hauser - Goldsmith) - 2:44 rating: ** stars
'Turnpike' was the only non-Hawks vocal . With the vocals credited to "Lucky Boy", I'm guessing bassist Hauser was featured on this one. If so, the results made it clear why Hawks handled the other nine tracks. The song was best described as a formulaic slice of country-rock ... is it me or do the cocaine references seem dated now?
5.) Burnin' Hurt (Len Fagen - Jeff Hawks - Bruce Hauser - Joey Newman) - 4:42 rating: **** stars
Newman' growling guitar and Hawk's hand-slammed-in-a-door yelp have always reminded me of something off of an early Van Halen album. The unexpectedly sweet backing vocals only served to underscore the comparison. Wonder if Diamond Dave and the Van Halens grew up with this album in their collection ... Be warned the lyrics certainly aren't politically correct in this day and age.
For anyone interested, there's a small Stepson Facebook page and several of the members seem to participate: https://www.facebook.com/Stepson-337260515259/
After playing in Stepson Fagen turned his attention to running the Los Angeles club The Coconut Teaszer. He passed away from COVID in May 2020. Here's a link to his obituary: Len Fagan, Coconut Teaszer visionary, dies of coronavirus - Los Angeles Times (latimes.com)