?
"Honey Lingers" track listing:
(side 1)
1.) Monsters and Angels (Tracey Bryn - Mike Jones) - 3:38 rating; **** stars
If you are ever looking for an example of "ear candy" then slap 'Monsters and Angels' on your turntable. A sterling example of a top-40 tune (that somehow escaped mainstream success), the tune had everything that late-'90s radio should have been looking for - criminally catchy melody; sweet vocals and just enough crunch to keep it from being sappy.
2.) Adonis Blue (Tracey Bryn - Mike Jones) - 3:40 rating; **** stars
'Adonis Blue' showed the sisters could toughen up their sound to compete with the best of their contemporaries - think first class Go-Gos, or The Bangles at their best.
3.) I Think I Love You (Tony Romeo) - 3:13
4.) Look At Me (Tracey Bryn - Mike Jones) - 3:03 rating; **** stars
While there simply aren't many bad Voice of the Beehive songs, I've always loved them when the hit the rock accelerator. Complete with plenty of jangle guitar and some hysterical lyrics, this was one of the classic performances.
5.) Beauty To My Eyes (Tracey Bryn) - 3:10 rating; **** stars
Exemplified by the sweet ballad 'Beauty To My Eyes, Byrn could effortlessly teach a masters class in crafting the perfect pop song. Another one with a hook that buried itself into you head and would not leave.
(side 2)
1.) Just Like You (Martin Brett - Tracey Bryn - Mike Jones) - 3:22 rating: *** stars
Hum, when did I put on The B-52s album? Seriously, 'Just Like You' bore more than a passing resemblance to that band. In fact these guys were lucky to not have been slapped with an infringement suit by Fred Schneider and the rest of the band.
2.) Little Gods (Marvin Etzoni) - 2:37 rating: *** stars
The album's one cover tune, as much as I love their pop moves, 'Little Gods' was a bit too much of a good thing. Offering a mix of '60s girl group and '90s pop, this was dangerous to diabetics.
3.) I'm Shooting Cupid (Tracey Bryn - Mike Jones) -3:11 rating; **** stars
In my humble opinion, I'm Shooting Cupid' was one of the band's best and overlooked performances. Sweet melody, irresistible refrain, wonderful vocals, and interesting lyrics ... what wasn't there to love?
4.) Say It (Tracey Bryn - Mike Jones) - 2:28 rating; **** stars
Jangle-rock at it's best and the lyrics were a hoot ("ignore my weakness for boys and noisy bands ."
5.) Perfect Place (Brooks - Tracey Bryn - Mike Jones) - 3:33 rating: *** stars
Another shimmering, radio-friendly pop tune with a lyric that should have made you reflect on life in generation. And yet it somehow came across as shallow and self-serving. But that angelic refrain ... It was released as a single with a slightly different arrangement. YouTube has the promotional video that was released with the single: https://www.youtube.com/watch?v=6pJjzpxlzzc
- 1981's 'Perfect Place' b/w 'Perfect Place' (London catalog number CDP 534)
In the UK it was released as part of a four track, 10" EP:
- 1981's 'Perfect Place' / 'Shine Away' b/w 'SIt Down (live) and 'Trust me' (live) (London catalog number LONT 312)
Brushing aside any concerns about a "sophomore slump," Honey Lingers was a rare achievement, an album in which virtually any song could have been a single. (It also boasts one of the most covertly sexy titles in recording history.) From the delightfully infectious "Monsters And Angels" to the introspective "Perfect Place," the beautiful melodies, harmonies, and production of the album are immediately apparent. Repeated listening also reveals complex lyrics, which, in contrast to their sweet sound, are at times quite biting.
The follow up to "Monsters And Angels," the first single from the album, was a cover of "I Think I Love You," made famous (or infamous, depending on your point of view) by the Partridge Family. The cover of the single featured a scene of infernal passion, and the 12" version of the song was called the "Orgy Mix." This theme was adopted for a short tour of the UK in 1991, playfully titled "Orgy Under The Underworld," a Bacchanalian festival of music and sex, the details of which are probably best left to the imagination...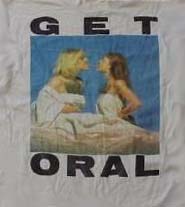 The last single from Honey Lingers was "Perfect Place," a mediation on altruism. Despite this kind outlook, the coming years would hold many difficulties for the band. Tracey and Melissa both faced the end of long-term relationships, the death of close friends, the loss of band members, and end of their association with London Records.
Despite the series of misfortunes the band was enduring, they managed to contribute a version of the Rolling Stones' "Gimme Shelter" to a 1993 EMI collection of covers of the song, collaborating with Jimmy Sommerville of the Bronski Beat and Communards.
oney Lingers is the second album from alternative rock band Voice of the Beehive. Released in 1991 on London Records, the album earned positive reviews from music critics and was a success on U.S. college radio stations. The album peaked at #17 in the UK upon its debut on 24 August 1991,[2] and #68 in Australia in July 1992.[3]
The first single, "Monsters and Angels", became the band's first entry on the U.S. Billboard Hot 100, peaking at #74.[4] It also was the band's second top-twenty single in the UK Singles Chart, peaking at #17.[2] "Monsters and Angels" peaked at #72 on the Australian ARIA singles chart,[3] and was their sole top-ten single on the U.S. Modern Rock Tracks chart, peaking at number eight.[5]
The title of the album is a play on the words of the sexual act of cunnilingus. The album includes a cover version of The Partridge Family's "I Think I Love You", which became their biggest hit in Australia, peaking at #12.[6]
"Monsters and Angels"

(Bryn, Jones)

– 3:38
"Adonis Blue"

(Bryn, Jones)

– 3:40
"I Think I Love You"

(Tony Romeo)

– 3:13
"Look at Me"

(Bryn, Jones)

– 3:03
"Beauty to My Eyes"

(Bryn)

– 3:01
"Just Like You"

(Brett, Bryn, Jones)

– 3:22
"Little Gods"

(Marvin Etzioni)

– 2:37
"I'm Shooting Cupid"

(Bryn, Jones)

– 3:11
"Say It"

(Bryn, Jones)

– 2:28
"Perfect Place"

(Brooke, Bryn, Jones)

– 3:33
Responding to a difficult promotional experience for Let It Bee, Voice of the Beehive ignored the ground they'd made in Britain and refocused their energies toward America. The result was 1991's Honey Lingers, a tighter, glossier sophomore LP periodically highlighted by absurd label interference. Where Tracey Bryn and Melissa Brooke Belland's sugared harmonies were too insistent in the past, here the camp had been toned down and the band's approach to B-52's modern rock more accessible and likable. One had to wonder what "I'm Shooting Cupid" would sound like with its reportedly excised sped-up verses intact or how singles "Monsters and Angels" and "Perfect Place" would work without the warmth of the over-production. As it turned out, if much of the album was manipulated after the fact by an insecure label, it was one of the few times in indie pop history when the illusion of a band in full confidence suggested a greater importance than the reality.
This 10 track album opens with the chugging guitar and beat of lead single Monsters And Angels. Sisters Tracey Bryn Belland andMelissa Brooke Belland soon arrive. Their delicately soft vocals work wonderfully well together on this gentle pop song. There's moments that remind me of the softer moments of Shakespear's Sister. I don't remember this being a single, but it understandably fared well in 1991, reaching #17 in the UK, and becoming their biggest hit.
A rapid round of snare drum introduces next track Adonis Blue, and it's straight into guitars and vocals. Here, the duo make this song sound like something you'd find on a Heather Nova album. There's some nice vocal harmonies in the chorus. The guitar is light enough to allow the sisters ample room to do plenty of soft 'oooh's. This is quite a nice warm, summery song.
Next up is second single I Think I Love You, a cover of The Partridge Family's 1970 debut single. The song is an inspired cover, and vocally the chorus is really catchy, but the rest of the song is quite difficult and downbeat. Legendary producer Don Was is in control here, and that more than likely helped this song find the success it did – a moderate hit at #25 – and it is the only song of theirs that I'd ever heard of.
This is followed by Look At Me, which is a heavier more rock track, but it's far catchier, and at times it makes me think of the kind of slightly punk pop chaos that you'd find in the B-52s. There's some pretty fantastic roaring guitar in this track.
Fifth track, Beauty To My Eyes is a nice gentle strum-along track. There's plenty more here that reminds me of Heather Nova again, and also carries some slight country music nods. Whilst Tracey and Melissa's vocals are dreamy, breathy, and light here, and the song is generally just 'nice', the song isn't particularly catchy.
Up next is Just Like You, which seems to have the B-52s Love Shack beats to it. There's a great little riff at the start, and the it's a great start for this up-beat pop song. This really should have been a single. It's pop, catchy, and funky too. This is flawless.
What feels like a saccharine 50's cover, Little Gods isn't. It was written by Marvin Etzioni (Lisa Loeb, Maria McKee, Dixie Chicks, Toad The Wet Sprocket amongst others) and it flows pretty well. The sisters make easy work of the slightly twee lyrics here, and the song lasts a mere 2m 37s.
I'm Shooting Cupid follows this, opening like an R.E.M song (think Shiny Happy People). There's plenty of space given to Tracy and Melissa to show off their vocal power, pitched against a wall of acoustic guitar and backing vocals. It's definitely a grower, and by the time of the guitar solo in the middle, I was tapping my foot along and prepared for a sing-a-long chorus.
Penultimate song Say It feels like the weakest song here. The vocals seem to be slightly muted, and the sister's bandmates meander their way through the song. There's a slight country music feeling to this, until the piano arrives at about 1m 40s, from which point the song seems to take on an extra strength and redeem itself.
The album closes with third and final single Perfect Place. This is a much more gentle song, and a good choice to close the album with. Vocals really shine here, in solo and harmonies making this pop-lite song a bit of a contrast to some of the earlier tracks. This was their penultimate charting single in the UK, scraping in at #37.
Over all, this album still stands up quite well, and there's little here that feels dated or awkward to listen to 14yrs later. PWL producers Ian Curnow and Phil Harding joined the likes of Don Was on this album, which makes it feel odd that it didn't fare as well as some of their other work.
Still, it's a nice enough album, that might have fared better with the single release of Just Like You, and more songs like it.
WHERE ARE VOICE OF THE BEEHIVE NOW?
Voice Of The Beehive continued to record and release singles after this album. Only one – 1995's Angel Come Down single – charted in the UK, stalling at #103. Three further singles and album Sex & Misery from 1996 all failed to chart.
The group disbanded in 1996.